New dawn for coffee farmers as digitised auction kicks off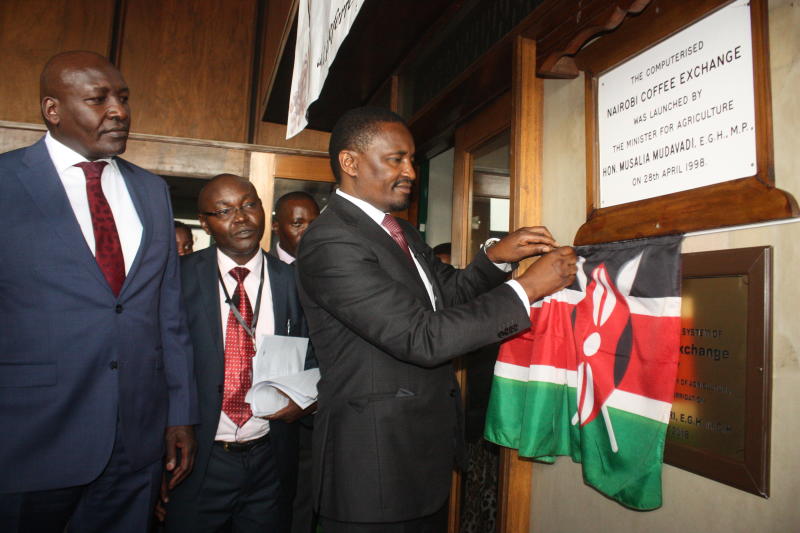 Farmers in the grassroots can now monitor the performance of their produce live from the Nairobi Coffee Exchange (NCE).
This follows the launch of an upgraded system that now enables growers to monitor coffee auction on large screens at the counties that beam the auctions live.
Farmers from various coffee societies said beaming the auction live would enhance transparency.
Yesterday, farmers thronged Nyeri Farmers Co-operative Union offices to follow proceedings at the coffee auction after the upgraded system was launched by Agriculture CS Mwangi Kiunjuri.
NCE has installed monitors in Nyeri and Kericho counties, in line with reforms proposed by a special task-force appointed by President Uhuru Kenyatta in March 2016 to look into ways of improving the coffee sub-sector.
"I want to warn millers, marketers and middlemen that the Government will aggressively pursue reforms to weed out rogue traders who have been impoverishing farmers," said Mr Kiunjuri.
He said upgrading the NCE would demystify beliefs surrounding the coffee auction, speed up sales and bring transparency to the sector.
The CS also launched the Kenya Coffee Platform, which brings together stakeholders to address issues affecting the sub-sector. "We hope the forum will design ways to help Kenya raise crop production from 40,000 tonnes to 100,000 tonnes by 2022. Then it will have played its intended role," he said.
Farmers told The Standard in Nyeri, they were optimistic the new system would encourage transparency and increase their earnings. They said brokers would no longer lie over prices.