Farmer rides to fortune with pump on wheels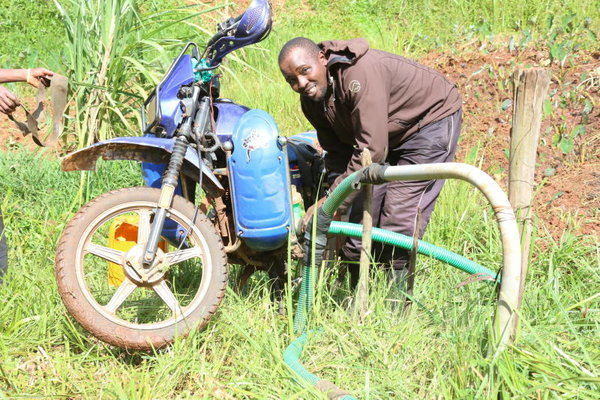 In 2014, Lawrence Wachira was a boda boda operator in Karima Village in Othaya Constituency, Nyeri County, earning an average of Sh300 per day.
Though not much, the money was enough to meet his basic needs. But Wachira, who had been in the boda boda business for four years, felt there was a world of opportunities he needed to explore.
"For the most part, I would just sit around on my motorbike and wait for clients and wonder what more I could do with it to make more money," he says.
One day in June 2014, Wachira attended a field-day for farmers and came across a demonstration on how to use a motorcycle to irrigate a farm.
He had had dreams of venturing into farming, but he was not sure how to go about it.
"There was a man exhibiting a small water pump that could be hooked up to a motorcycle engine and used to pump water from the stream to the land," Wachira says.
Booking complete unit
Intrigued by the invention, he got details from the exhibitor and was advised to go to Thika where the pumps were manufactured. He bought the pump at Sh10,000.
He then leased five acres of land for five years. The land is near Karima Hill and next to a stream.
"I first cultivated tomatoes, cabbage and green peppers on the land. Instead of using a bucket to irrigate the land, I used the pump, which I hooked up to my motorcycle," he says.
But he soon realised this was not a convenient way to irrigate the farm, so he built a water pan about 400 metres from the stream. He built the water pan on the top of the slope so that he could rely on gravity for irrigation.
Wachira hooks up his motorcycle to the pump, which is connected on one end to an engine and on the other end to a two-inch pipe which is 40 feet long. He then connects the pipes to the water reservoir. He has laid pipes that connect the water pan to the farm.
Within 45 minutes, Wachira pumps 40,000 litres of water into the pan.
In the first year after investing in the technology, he harvested horticultural produce worth Sh80,000.
Previously, he would pay at least three people between Sh300 to Sh500 to manually irrigate the farm. The pipes helped cut on this expense.
In a good season, Wachira makes up to Sh150,000 from the farm, while still having time to engage in his boda boda business.
"It has been a good investment. I wish more young people in the boda boda business would would engage in other business ventures like farming," he says.