Cartels conning farmers in subsidised fertiliser deals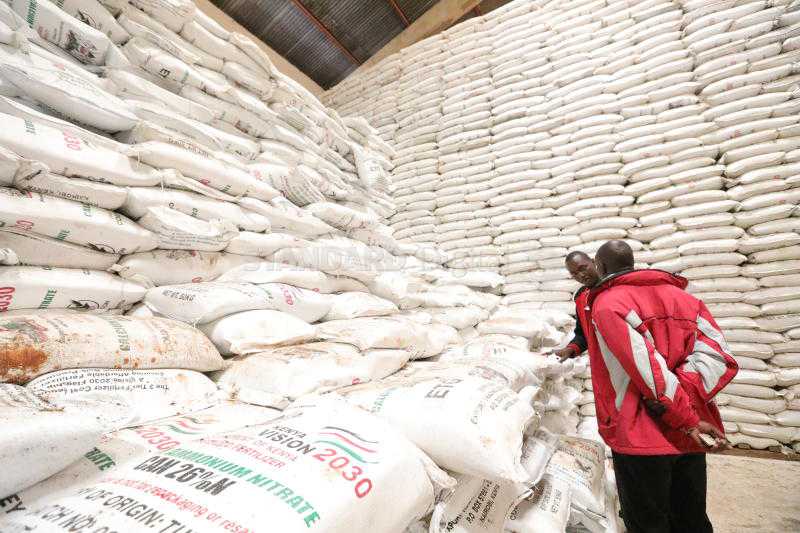 Cartels have exploited loopholes in vetting channels to access Government-subsidised fertiliser, which they are now selling to maize farmers at a higher price.
Unscrupulous traders are said to have compromised the vetting committees charged with identifying genuine farmers to enable them to buy the input at a subsidised price of Sh1, 500 from the National Cereals and Produce Board (NCPB) stores.
The cartels are allegedly working with brokers to repackage the fertiliser for sale to desperate farmers.
Now, with a shortage of the fertiliser in NCPB stores, farmers are buying the input from retailers at higher prices.
According to sources at NCPB, the brokers have taken advantage of a system in which the board uses lists generated through an opaque process. The sources say the system lacks safeguards and is open to abuse by well-connected individuals to access the subsidised fertiliser.
Under the vetting system, an individual farmer applies to the ward agriculture department to be included as a beneficiary. The local chief then gives the farmer a form to fill indicating the acreage of land for cultivation and quantities of fertiliser requested.
Local chief
The vetting team comprises the local chief, who is the chairperson, a ward agriculture official (secretary) and three other members – a female church member, a community leader and a farmers' representative.
The team then forwards the names of eligible farmers to county directors of agriculture and county executive committee members for agriculture before the lists are sent to the Ministry of Agriculture headquarters in Nairobi.
"We look at the individual farmer's national identification card and vetting documents, and if the names have been entered in lists sent to Kilimo House, we allow them to access subsidised fertiliser," said a source who did not wish to be named.
"Once we have the green light from the vetting teams, we are not able to determine who is a genuine farmer and who is not," said the source.
This means it is possible for well-connected individuals to have their names included at any stage before the final list is sent to NCPB.
"Unscrupulous traders or cartels could register a spouse, a son or worker and make claims for subsidies using one farm, and walk to NCPB depots for consignments that are later repackaged for sale in the market. It is also possible to forward additional names either at the vetting level or at the county or national levels. There are no safeguards," the source said, adding that the cartels then hoard the fertiliser and wait to cash in on the scarcity.
According to Kipkorir Menjo, a Kenya Farmers Association director, the cartels are well connected and have long tentacles.
"Cartels buy subsidies as early as December from the previous year's stocks. They also buy top-dressing fertiliser in advance, when farmers are rushing for planting fertiliser. the NCPB officials do not have powers to determine who are genuine farmers. They only use documentation from the Government-recognised vetting committees," said Mr Menjo.
Recently, Uasin Gishu County leaders revealed that more than 240,000 bags of subsidised fertiliser were delivered to NCPB in Eldoret between October and December last year. But it is still a mystery where the fertiliser went as farmers complained of lack in the depots.
Early this week, hundreds of farmers were shocked to arrive at NCPB depots only to find top-dressing fertiliser instead of planting fertiliser.
Free market
Paul Kerich, a farmer from Kipkaren in Nandi County, said cartels were taking advantage of the free market economy to frustrate farmers.
The farmers are also wondering why NCPB would stock top-dressing fertiliser that is only necessary when maize is at knee height.
"The delays in transporting the fertiliser to farmers are deliberate so unscrupulous individuals can take advantage of the last-minute rush to exploit the farmers. The input is distributed in batches, leading to a scramble," said Mr Kerich.
"We are here at the NCPB depot but the only fertiliser accessible is CAN, meant for top-dressing, when we are yet to plant this season's crop. What we urgently need is planting fertiliser so we can plant before the current rains subside," added Christopher Kiptum, a farmer in Uasin Gishu.
Similar frustrations have been reported in neighbouring Baringo and Narok counties.
Farmers who spoke to The Standard blamed NCPB for poor communication and unnecessary delays that have led to a long wait - sometimes weeks - for the fertiliser.
"Two weeks ago, I applied for 20 bags of DAP, which was approved after following due process. Although I knew the process would be tedious, the board's incompetence has further aggravated my situation. I am already lagging behind and time is running out," said one farmer who requested not to be named.
To fight drought, involve communities
According to the latest information from the Meteorological Department, rainfall will be poorly distributed in April, May and June, and this will have a serious impact on agriculture