I keep ornamental birds because day-old chick fetches Sh1,000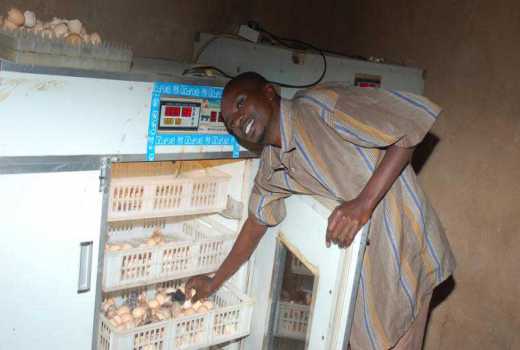 Poultry farming is one of the ventures many young people have embraced in Meru County, because of the quick returns. But one daring farmer has decided not only to keep ordinary poultry, but ornamental ones that fetch higher profits.
Edward Mugambi, keeps several ornamental birds at his farm in Kirogine in Imenti North Sub County. He specifically keeps Silk Bantam and Polish Bantam which he started rearing in 2013.
Before starting the venture, Mugambi bought two eggs from a farm in Nairobi.
"l bought the eggs at Sh500 each. l started out just to test the waters. I researched online on breeding, feeding and management and took a leap of faith. Step be step, the numbers increased and so did my clients. Most people buy them for aesthetic purposes," Mugambi says.
He sells a day to one week old chick at Sh1,000 while those which have attained three to four months fetches Sh2,500. This is significantly high returns for a poultry farmer given that a day-old broiler sells at Sh100 on average.
What inspires him is the insatiable demand for the birds, he says.
Always vaccinate
"Not many people keep ornamental birds despite the ready market. So for the few of us keeping them, it is Christmas through and through. I sell mature birds between Sh2,000 to Sh2,500," the farmer points out.
The birds start to lay eggs when they attain the age of six months. Unlike chicken, the birds are not heavy feeders.
"In a day it can eat about 30-40 grams of feed," Mugambi shares.
He has 200 birds in various stages of development.He sells a pair of the birds mostly when they are below three months.
To increase his income, Mugambi also has an incubator and a hatchery, for egg hatching.
"I started small, but as more orders came, I had more disposable income which I used to buy an incubator and a hatchery. My starting capital was Sh100,000, but now I can say my business is worth some few millions," the farmer says.
Though his business has broken even, looking back, he says it has been a journey. "After high school, I started working in a kiosk. I saved every coin I made and within a few years, I was able to save up enough cash to start a poultry unit," he recalls.
Along the way, he has learnt vital lessons on poultry keeping and can dish out a few.
In hatching eggs, one needs to verify the age of eggs and age of breeders.
"Storage of eggs is also key. In the incubator, the temperatures should be about 18 to 20 degrees. Eggs with a maximum of ten days after being laid are preferred. Before you put the eggs in the incubator, look out for those that have defects like cracks and dispose them off. Disinfect the good ones and the machines to ensure the chicks do not contract infections," Mugambi advises.
The eggs stay in the incubator for 18 days, then for three days in the hatchery where they hatch.
Immediately, the chicks are brought out of the hatchery, Mugambi says he starts the vaccination routine: five days vaccinate with Newcastle, Gumboro when they are ten days, and repeated for Newcastle when the birds are 21 days.
From 28 days to six weeks wing stub vaccination is administered.
To cut costs, the farmer manufactures his own feeds. He uses maize germ, wheat pollard, soya, sun flower and fish germ, to make the feeds. His incubator has a capacity of 2,000 eggs and he also hatch eggs for other farmers at a fee of Sh60 per egg. For farmers who want to keep incubators, Mugambi advises that they have a back up power plan like a generator.
"I have two generators just in case of a blackout that can be disastrous," he adds.