Kenyan millenials warm up to farming as cool side hustle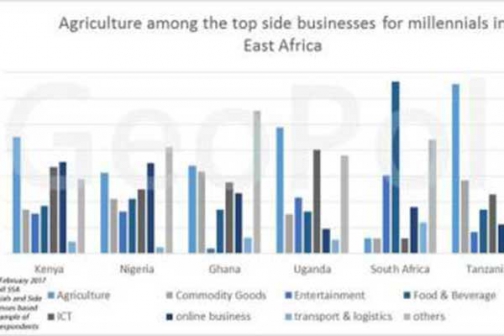 Finally the Facebook generation is gradually beginning to embrace agriculture as a worthwhile side hustle. A new report shows the group popularly known as the millenials, are beginning to embrace farming.
Previously this group, aged between 18-35 years, saw farming as dirty, backward and unrewarding. But according to a GeoPoll Rapid Survey, slowly by slowly, this perception is beginning to change as the Generation Y, embrace the jembe alongside the neck ties.
The report focused on youths in six African countries namely — Kenya, Uganda, South Africa, Ghana, Nigeria and Tanzania.
The focus of the study was on an array of issues that millennials care about from the politics of the day to dreams and aspirations.
Interestingly, the once shunned agriculture toppled the cool ICT, given that this generation is tech savvy.
The survey shows that in Kenya, 23 per cent of the youth invest in agriculture, 18 per cent in online businesses, while 17 per cent invest in ICT. Transport business and logistics are the least-liked opportunities among the millennials.
This news is particularly illuminating given that the average age for a Kenyan farmer is 58 years according to the Ministry of Agriculture statistics.
The millennials, a generation born in the technological era, are seen to want instant cash and not ready for ventures like farming that requires hard work and patience.
And few years back, the State had released a report that showed that majority of young people shun agriculture because they see it as not worth their time, skills and investment.
"It is seen as an activity for old retirees," an officer from an NGO was once quoted saying at a forum on youth and farming.
Agriculture Cabinet Secretary Willy Bett has on several occasions noted this concern that the Government was working to make agriculture more attractive to youth by introducing technology in agriculture.
Given their energy and numbers, the youth can play a critical role in food production thereby boosting food security.
It is worth noting that the youth make about half of the country's 40 million people.
Given the country's wanting food security situation that has seen her increase its food imports from the neighbouring countries, the involvement and interest of more young people in agriculture is welcome news.
The solution to boosting food security, lies in its youth, who play a minimal role in agriculture and food production.
The situation is no different in the rest of Africa, where majority of its population are people aged between 15 and 24 years, view agriculture as a uncool.
Other highlights
The study also indicated that the young people were so committed on their farming side hustles, they were willing to go an extra mile and get extra cash to make it their main economic activity.
And when they need a capital injection, the millenials seeks for funds through loans from banks and cash boosts from 'mum and dad' and mobile money and micro-finances, are the most preferred options when they need that capital injection. Interestingly, despite their more friendly repayment terms, Savings Cooperatives or Saccos, are shunned by the young people, as sources for credit.