Timing is everything for tomato growing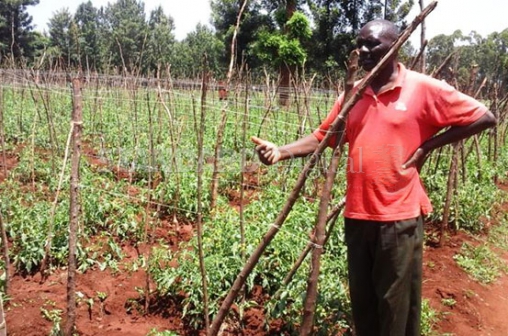 THIKA: When he first planted tomatoes on his father's farm as a lad in Standard Seven in 1979, John Kariuki Thiaka did not realise he was onto something. Thiaka says the 108 plants he grew began to pay off just four months later.
Thiaka never forgot this lesson. In 2013, he resigned from his teaching job at Kiamiciri Primary School to venture into tomato farming.
Even though the 55-year-old's family and friends did not approve of this 'risky' move, Thiaka says this is the best decision he has ever made.
Thiaka did not venture into farming blindly and had begun to grow tomatoes well before he retired. He has not looked back since.
In one of his projects, a tomato venture on a one-acre lot fetched Sh1.2 million during the long rains and Sh950,000 during the short rains. So even if a seasonal production cost of Sh200,000 was subtracted, a healthy profit of 1,750,000 still made the venture worthwhile, says Thiaka.
This was significantly higher than the Sh30,000 monthly salary he earned as a teacher, which was hardly enough to cover for the fees of two children at Mt Kenya University and one in Form One.
The irony is not lost on Thiaka.
"After working as a teacher for 25 years, I was paid Sh947,000 as my retirement package. At the same time I had just made Sh950,000 in four months from growing tomatoes," he says.
A more active engagement in farming would have been much more difficult for Thiaka in secondary school or St Mark's Kigari Teachers' College, in Embu County. However, after graduating in 1989, he still tried to juggle between teaching and farming, and even learned modern crop husbandry techniques along the way.
Thiaka believes he is the first farmer in Kirinyaga county to begin growing tomato seedlings in polythene paper bags rather than an open nursery. Since he adopted this method between 1990 and 1992, it has become more widespread.
"Seedlings grown in polythene bags mature faster and produce more yields as there is less disturbance of their root stock compared to those in an open nursery which are uprooted then replanted. These take time to blossom," he says.
One has to be careful and watch out for curl leaf (kathuri) disease and bacterial wilting which can wipe out a crop in a few days.
To get round this, Thiaka uses disease-resistant seeds and chemicals. These are expensive and have pushed up the cost of production to Sh250,000 an acre up from Sh200,000 two years ago. There are low quality variety of fertilisers that reduce yields. The farmer wants the Kirinyaga County Government to hire more extension officers to give farmers expert advice on best farming practices.
Despite these shortcomings, Thiaka's farms have thrived. By 2000 he was making quite a tidy sum from tomato farming and used the profit to establish a private primary school, Precious Complex Academy, in Karia township. Thiaka later opened a new branch in Ngaru.
"Every time I made a profit I would build a classroom. Over time I have built school infrastructure and my school sat its first KCPE last year. I also purchased land in Ngaru and established another school there in 2013," Thiaka says.
The formula to successful farming, he believes, is commitment, hard work, good timing and capital.
When we caught up with him at his farm, we first mistook him for a casual labourer—obviously his old T-shirt and trousers had seen better days.
"To be successful in tomato farming, you must be ready to work in dirt, wade in mud and practically do any other job that your workers will do. You cannot afford to delegate supervision if you want to make money in tomatoes," he says.
Last season, he grew tomatoes on one and half acres land and sold the yield for Sh1.6 million, earning a profit of Sh1 million in just four months. In January, he planted tomatoes on three acres and expects to earn a profit of about Sh3 million in April or May from the land he leases at Sh30,000 every season.
For healthy tomatoes, Thiaka applies manure from goat droppings which he purchases at Sh40,000 per lorry from Nanyuki.
Timing, he says, is everything. Supplies must reach the market before it is flooded by tomatoes from other farmers. "I planted my tomatoes in the nursery on January 19 so that I could begin harvesting them from April 19," he says. Last year he used proceeds from farming to buy a farm truck and then later a family. A family home with then follow in two years after his schools have been expanded.