New varieties of tree tomatoes and arrowroots ensure bumper harvest for innovative farmer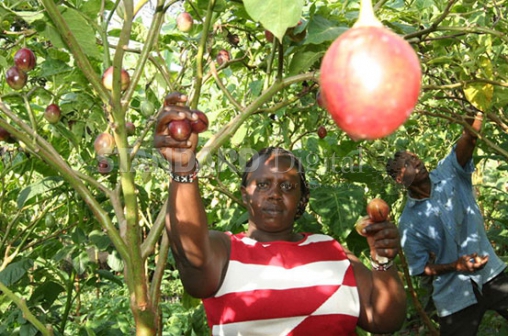 NYERI: For Elizabeth Nyambura, a two-year wait to reap from tree tomatoes was her turning point in farming.
In 2010, a family friend who was visiting from Holland offered to buy for her hybrid tree tomato seeds. She took her savings of Sh262,000 from proceeds of a tree nursery and imported 750 grams packet of seeds.
The seeds took two years to mature and bear fruit.
"I was able to harvest 200kgs of fruits from the trees but I was discouraged by the two-year wait for the trees to mature. So I sought advice from friends and experts and they told me there was no other way to shorten the time," Ms Nyambura says.
She decided to seek tips from the internet on fast-maturing varieties of the crop.
Fortunately, a farmer in Senegal informed her of an indigenous tree in the west African country which she could graft with the hybrid seedlings and shorten the maturity period.
Nyambura imported the tree seedlings and grafted them with her tree tomatoes and the results were astounding — the trees matured in six months instead of two years.
"On the advice of agricultural extension officers at the Wambugu Farm Agricultural Centre, I asked the Horticultural Crop Development Authority (HCDA) for certification of my grafted hybrid tree tomatoes," she says.
HCDA tested the fruits and gave her the green light to proceed with grafting of the seedlings to the Senegalese indigenous tree.
She would later discover a local indigenous tree that grows in Ukambani, Muthakwa, which is similar to the Senegalese tree.
"That first harvest was the best I have ever had since I started farming in 2008. I harvested 7.5 tonnes from my 1,500 trees," she said.
From this venture, Nyambura earned Sh750,000.
The grafted plant is resistant to diseases and does not require a lot of water.
"The grafting to the indigenous tree makes the seedlings develop a taproot that supplies the fruits with the much needed water during the dry season," Nyambura says.
Grafted tree tomatoes bear fruit all year round and can be harvested every two weeks. The trees can survive for up to 10 years.
"At any given time, I have at least 10,000 tree tomato plants on my farm and they are my source of income. They have helped me expand my business to include other crops such as giant Burundian arrow roots," said Nyambura at her farm.
For Nyambura, the sky is the limit. Each day offers her an opportunity to improve her farming techniques.
She developed passion for farming while in secondary school.
This laid the foundation for her venture in Kangaita Jikaze tree and fruit nursery. "When others chose to do other subjects I stuck to agriculture because I had a passion for it and knew it was special to me," Nyambura says.
Since 2008, she has engaged in research to improve fruit varieties, especially 'tamarillo', the tree tomato
Nyambura's farming venture began when she teamed up with her husband to cultivate maize, beans and potatoes on the family lot, just about an eight of an acre in size. Later she prepared a fruit tree nursery.
"There was great demand for the seedlings, and so I expanded my nursery to meet the demand," she says.
"In 2013 I travelled to Burundi where I saw women carrying giant arrow roots on their backs and immediately I knew I wanted to grow them when I returned," Nyambura says.
She carried home a few tubers and decided to grow them on a piece of land she leased from a neighbour.
"Arrow roots are traditional foods and their demand has been growing as people become more health aware of their availability. I was certain I would get a market for my produce," she says.
After five months, the tubers had grown two metres long and weighed 10kgs. This was twice the size of the local variety.
"The Burundian arrowroot tuber has a finer quality an can be ground into porridge flour unlike its local varieties. It is also sweeter than most local varieties," Nyambura says.
Arrow roots do not require a lot of water and can grow anywhere.
"One kilogramme of arrowroot is sold at Sh40. With one plant weighing upto 10kgs, I can earn a minimum of Sh500 from it," she says.
From the 100 Burundian arrow roots she started with, Nyambura now has 300 plants as they mature faster and are easy to propagate.
"My 300 plants can earn me Sh150,000. For those who would like to start their own arrowroot farm, I sell each seedling at Sh100 which is an additional source of income," Nyambura says.
"I would like to one day be the owner of a research institute to help other farmers discover ways to improve their yields," Nyambura said.