Want better returns from your grains this year? Try seed maize farming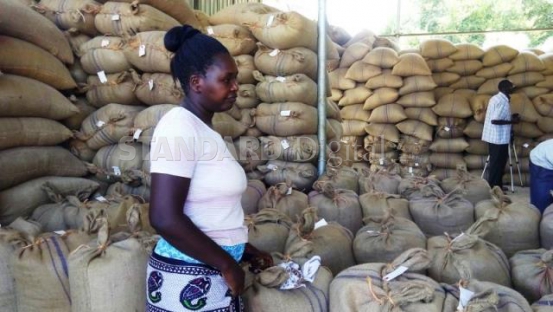 Over the past three years, maize farmers in the North Rift have been taking to the streets every harvest season to protest low prices and delayed opening of the National Cereals and Produce Board (NCPB) depots.
Several farmers have considered quitting maize production for other crops, citing high cost of farm inputs and low prices. The influx of cheap maize from Uganda and Tanzania have led to further decline of the prices, which have gone from Sh3,500 per 90Kg bag in 2013 to the current Sh1,400.
But as others mull over whether to ditch the crop, a group of farmers in West Pokot have discovered a way to reap maximum profits from their crop by specialising in producing maize for seed processing.
"Planting maize for seed production purposes is a lucrative venture for us and has significantly improved our livelihoods. It is less tasking and pays well than maize produced for consumption," says Selina Long'iro, one of the farmers.
The Smart Harvest team caught up with Ms Long'iro in Weiwei area, Sigor Constituency, at the Kerio Valley Development Authority's (KVDAs) maize shelling plant as she was sorting out maize cobs for processing.
Better returns
"This marks my fourth year of planting seed maize and the returns are three times more than those of the ordinary maize. I can comfortably keep my three children in school and I just moved to a better house, thanks to seed maize," she says.
She sells her produce to Kenya Seed Company (KSC) in Kitale 70 kilometres away. For a kilo of the seed maize, Long'iro gets Sh68. This translates to Sh6,120 per 90kg bag, at least Sh4,500 more than she would have received had she planted maize for consumption.
"I get 100 bags of maize cobs from my two and a half acre piece of land. This gives me 60 bags of grain when shelled. In the first planting season, this translates to Sh350,000. I get at least 25 bags from the second harvesting season, giving me another Sh160,000," says Long'iro.
William Tarus, another farmer from Weiwei, says seed maize only takes four months to mature, enabling them plant twice in a year. Since their farms are under the 900-acre Weiwei irrigation scheme that was initiated by KVDA in 1980s, farmers like Tarus and Long'iro are assured of a constant supply of water.
According to Tarus, 360 farmers benefit from the 900-acre tract of land under maize plantation. Each of them have been allocated two and a half acres, but those who cannot cultivate their share lease them out to their neighbours.
"We plant the maize during the long rains between April and August, which gives more yields and the short rains period between September and December. The venture has helped improve livelihoods in the area because besides the produce, many more people are employed in the farms as casual labourers," said Tarus.
The farmer says yields from the venture is dependent on a farmer's use of inputs like fertiliser and chemicals. Ploughing and seed selection is done by KSC.
"Those who use three bags of 50kgs planting fertiliser per acre get at least 60 bags from the 2.5 acres. I cultivate 50 acres and the returns are encouraging though the cost of production is still high and the government needs to consider subsidies on fertiliser," he says.
Simon Lotoyuk, a young farmer studying at Kisii University in Kapenguria, says the venture has helped him pay school fees. payment for delivered produce is maid within 45 days.
Hillary Kweyu, a KSC official, says seed maize crops are closely monitored to ensure they get the exact intended breed. The company must therefore work continuously with farmers to achieve this.
"Maize meant for seeds is planted in a special way with six rows of female plants and two rows of the male plant. The tussle of the female is removed so that the intended breed can fertilise the females. The male seed is flint and pale in colour unlike the female," he says.
Kweyu says the Weiwei area produces at least 2.5 million tonnes of seed maize per year - 1.5 million tonnes from the long rains season and one million tonnes in the short rains season - generating at least Sh70 million annually.
KVDA Managing Director David Kimosop says the authority is planning to construct maize driers to ensure farmers get maximum returns from the venture by reducing post-harvest losses.
Sad New Year for couple as son drowns
A couple in Makueni crossed into the new year mourning after their son drowned in a dam in Machakos town. Martin Mutuku, 21, a diploma student at the Machakos University College, had gone to swim at Kwakaumbuthu Dam but never returned.