Tomato farmers pray for el Nino to come in plenty
While many farmers are dreading El Nino rains, a group of women from Nyeri County are giddy with excitement at the prospect of the rains.
Mwireri Women Self Help Group from Kieni Constituency are praying that the rains come soon and in plenty.
Strange indeed, given that these destructive waters have cost farmers massive losses on the farm.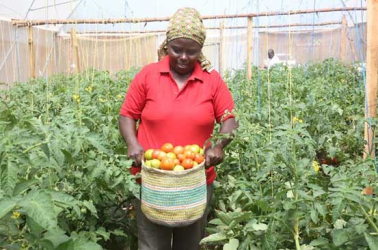 Well, for years, the group of women farmers, have been struggling to get sufficient water for their crops and animals. "Our area is semi-arid and finding water for our farms has been a big problem. We grow tomatoes and they need a lot of water which is hard to come by in this area. Our members have to walk long distances in search for water," says the group's founder Julia Wangari.
And the smart thing is that these women are not just waiting, they are armed and ready to capitalise on this resource that many consider a curse.
"We plan to harvest as much water as possible. We are in the process of setting up several polythene sheets which will trap water and ensure we have enough for the coming months," says Wangari. The group members who total seven are expecting that the rains will bring them good fortunes.
"We are aware that the heavy rains destroy crops as long as they are in the open field. But with a green house, our tomatoes are safe," says Wangari.
The group expects to double its yield with the availability of water.
To get maximum rain water for storage, each member has put up several rain gutters around their houses. Mwireri Women Self Help Group was formed five years ago, when a team of like-minded women decided to come together and farm as a group.
Wangari, who doubles as the secretary of the group, says the women decided to form a group when they realised that individually, they were struggling as farmers and they could overcome this if they united.
"We came together as women from this area because we had similar challenges. Living in a semi-arid area is not easy, each woman wanted to grow food for their families in a kitchen gardens but it was just not working. Most of us also had to walk long distances in search of water. But now that we are a group, we alternative this search so that while others go to look for water, the rest focus on other things," Wangari says.
So how does their group thing work? They pooled resources and rented a one acre parcel of land to do communal farming where they grow tomatoes, potatoes and beans. They also alternate their trips to the river to fetch water.
"So far, we cannot complain. From our harvests, we are able to feed our families and we sell the surplus in the local market and share the proceeds," We are also able to hire a donkey to make the trips to the river," Wangari says.
In 2014, the women got a major boost when an NGO offered to build them a greenhouse and train them on how to grow vegetables.
"World Vision officers met us on our farm as we were harvesting our potatoes and offered us the opportunity to learn about green house farming," Wangari recalls.
Now the group have four greenhouses where they are growing tomatoes. The farmers have to water the tomatoes at least twice a day to maintain high yields, which is not easy given that the area has a water problem. Their tomatoes exhibit signs of stunted growth due to lack of water.
Another challenge they face is that their tomatoes are always affected by whiteflies.
Even with these hurdles they face, the women are not about to give up.