New machine saves Nyandarua County potato farmers costs and time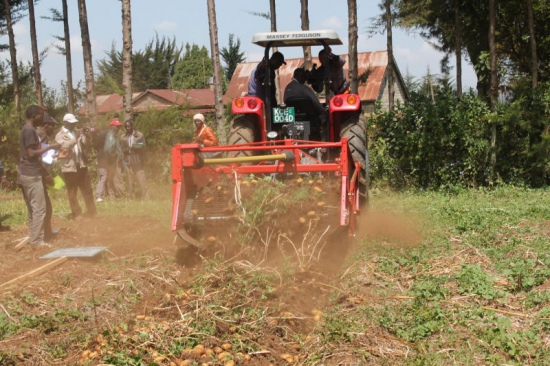 A potato revolution is coming to Kenya as more farmers adopt mechanised farming styles in traditional growing areas of Nyandarua County. Here, farmers are used to manual farming and poor seed varieties, which have in the past, been the source of poverty and disillusionment.
Now the county government has partnered with the German Food Partnership Potato Initiative Africa (GFP-PIA) programme in a public private sector initiative that has brought select local farmers on board with amazing results. The programme is operated under the patronage of the German Federal Ministry for Economic Cooperation and Development (BMZ) in tandem with Deutsche Gesellschaft fur Internationale Zusammenarbeit (GIZ) Food Security and Drought Resilience Project.
One such farmer is 70-year-old Mzee Geoffrey Muturi who, for more than 20 years, has planted potatoes on his five acre farm in Njabini area with little to show for it, but the education of his four children.
"It has been like living from hand to mouth," says Muturi who has no strand of black hair left on his pate. "I would not be so white and wrinkled today if this technology had arrived earlier," he rues.
"I used to harvest an average of 160 bags from five acres under the crop. I am now guaranteed 200 bags from less than two acres under the programme with improved new seeds," he says, a grin of satisfaction easing his wrinkles.
More efficient
He says the new seed varieties under the programme, are less susceptible to potato blight and other diseases that reduce yields, coupled with losses incurred during ploughing, planting and harvesting adding, "The use of tractor drawn implements is cheaper and more efficient".
"Ploughing an acre, for instance, takes me only three hours at a cost of Sh7,600 using mechanised methods. The same would cost me Sh300 per person for days if I was lucky to get people willing to work and I had to cater for their breakfast and lunch too.
Take a quick survey and help us improve our website!
Take a survey
"It was worse during planting and harvest time because I had to cope with theft of seed and harvested crop. Damage was galore as those digging out the tubers cut many of them while a lot more remained in the soil to germinate as unwanted weeds the following season.
"Like in ploughing, the mechanised equipment clears an acre during harvesting in three hours at a minimal cost of Sh1,500. The same applies during spraying and weeding, saving the farmer immensely while ensuring that no tubers are damaged or left in the soil to rot. The equipment pulled by a tractor with narrow wheels shakes off the soil and places the lifted tubers on the ground to be collected and thrown into gunny bags ready for the market.
Mother of five Faith Ngigi, has eight acres under potatoes at Kipipiri, five of which she has put under the new programme.
She says the mechanised equipment digs deeper and mixes soil better than people using rudimentary hoes and fork jembes with the additional advantage of costing less in shorter time.
"What people will dig in three days demanding to be fed even as you pay them, the mechanised equipment does it in hours," she says, echoing Mzee Muturi's words.
Like many ambitious farmers in the Njabini potato growing zone of Nyandarua County, Ngigi who expects to harvest in excess of 700 50-kilogram bags from the five acres under the programme, looks forward to buying her own equipment. A second-hand tractor, planter and harvester cost a local prominent farmer Sh10 million.
The GFP PIA National Co-coordinator Mr Jackson Muchoki says advantages of mechanised potato farming are not confined to reduced costs and quality. "It is youth friendly. Educated young people who tend to look down on farming as a preserve of the rural folk are easily attracted to mechanised farming," he says.
"Efficiency leads to excess production that can be channelled into industries, leading to more jobs for the ever swelling skilled manpower," he notes.
"More potatoes translate to improved food security in a country where large populations are still food deficient," says Mr Muchoki.
The manager of Agricultural Mechanisation Services in Nyandarua County Eng Njung'e Kariuki, says that with the introduction of the new technology and seeds, potato production is expected to rise to 46 tonnes per acre from ten tonnes per acre using traditional methods.