Family's project a life saver for Nandi ecosystem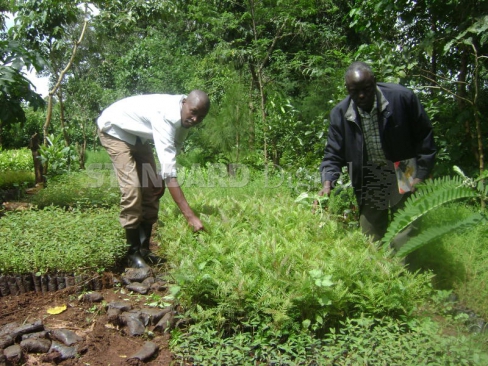 KENYA: "United we stand, divided we fall." This is the motto of three tree seedlings farmers doing remarkable work in conservation in Nandi County.
Joseph Barno, his son Ignatious Kipkemboi and Alfred Chongey (a relative) teamed up in 2002 to start El-Joki tree nursery in Lessos Town, Nandi County and now the project is an envy of many.
"El-Joki tree nursery is our main source of income, we earn an approximate profit of Sh1.5 million yearly, after deducting all our expenses," says Barno.
The tree nursery lies on a one third acre plot in Himaki, Lessos and has 500,000 mature seedlings ready for sale. The nursery also boasts 2,000 seedlings of grafted avocado fruits which sell at Sh120 a piece.
The trio is able to take care of their families from proceeds from the farm and they have also employed two permanent workers and six temporary staff to manage the nursery.
They supply mature tree seedlings to schools, colleges, small and large scale tree farmers, Kenya Forest Service among others in Nandi and Uasin Gishu counties.
Quit his job
Kipkemboi quit his well-paying job as an accountant at a milk processing company to concentrate on the tree seedlings venture in 2013.
"At first, I was juggling between my job and the farm, but in 2013, I quit to fully concentrate on this tree nursery. I have no regrets whatsoever," the young farmer tells Smart Harvest.
So how did they start the project?
The trio saw the need to start a seedlings project when they found out how major forests in Nandi and Uasin Gishu counties had suffered heavy logging exposing the environment to negative effects of climate change.
Barno, who is like the team leader, says they initially started growing tree seedlings in the nursery then transfer them to Emdin-Simbi-Kipyot water catchment to save the crucial ecosystem.
Indigenous trees
"But with time, fellow villagers got wind of what we were doing and we started receiving orders to supply tree seedlings to various schools and institutions," Barno recalls.
Now the project produces 200,000 tree seedlings annually for sale. "We sell one mature and healthy tree seedling at Sh10. Our largest order this year is a businesswoman in Uasin Gishu who bought 26,000 blue gum seedlings to plant in her land," reveals Kipkemboi.
El-Joki tree nursery supplies a wide variety of exotic tree seedlings including different species of blue gum, Gravellia, Cyprus and Elgon Teak. They also deal in indigenous tree seedling varieties including Syssygum locally referred to as Lamaiywet among others.
"Our biggest money earner is Blue Gum and Gravellia seedlings. They are on high demand. We however have a problem selling the indigenous tree seedling varieties," says Barno.
Quality trees
For top quality trees, the team say they source for seeds from reputable sellers.
"We source seeds from different sellers including the multinational tea companies who have huge tree nurseries. We also collect some seeds in our local forests in Nandi North and South," says Barno.
The seeds are planted in seedbeds where they take about two months to mature before they are transplanted to tubes containing manure enriched soil.
They stay in the tubes for four to six months depending on the tree species' before they are ready for sale.
"Our initial aim to ensure forest conservation and environmental sustainability are still top of our agenda as business and environmental lovers," says Barno.
The trio have also registered another company where they offer afforestation services to farmers across Nandi and Uasin Gishu counties.
"We advise small and large scale farmers on the best way to create their own forests. At the same time, we are also contracted by different farmers to transplant tree seedlings in their land at a cost," says Kipkemboi.
Barno says though they have stepped on some thorns running their project, the experience has been exciting and fulfilling.
"Like other farming initiatives, we have encountered some problems, but luckily we have always found a way out," says Barno.
The main challenge, they say, is water shortage especially during the dry season.
"Our main expense is irrigation water. Watering the seedlings is of great importance as it ensures they thrive. However watering becomes a problem particularly in the dry season making us incur heavy losses," he says.
To address that problem, they now have a generator powered water machine which pumps water from a local stream to the tanks for storage.
Other expenses include buying pesticides. The group is passionate about conservation and urges the government to support projects like theirs that contribute to environment sustainability.
"There is a lackluster effort by our government to ensure afforestation of destroyed forests. We are ready to partner with like minded bodies to ensure conservation of our forests," says Kipkemboi.
Future plans?
"We plan to increase our tree seedlings to two million within the next two years. We are also planning to expand our market to cover the whole country thereby increasing our profits from Sh1.5 million to Sh10 million," says Kipkemboi.