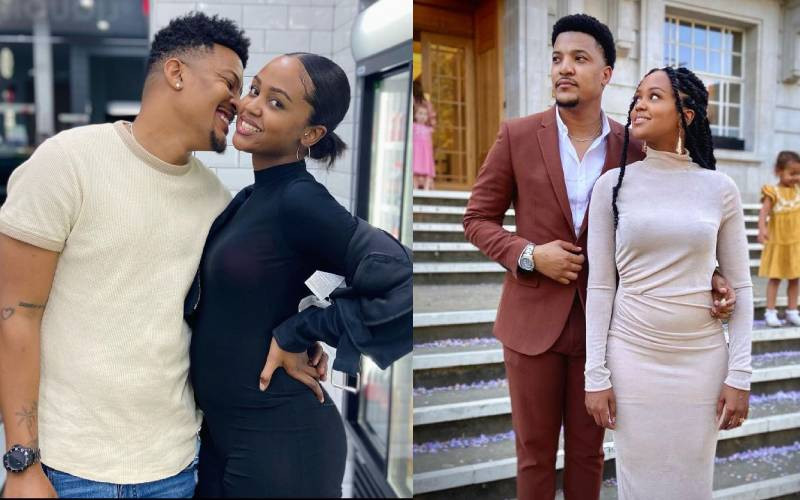 The Komorah brothers are no strangers to our TV screens. The two, Benjamin Komorah, aka Luwi Capello, and his brother Samuel Komorah broke into the limelight a couple of years ago thanks to their prolific acting skills. In their active years in the industry, the two have featured in local hit TV drama series such Aziza.
However, one thing stands out for the younger brother, Samuel, or Samm, as he is popularly referred to. Samm is married to the beautiful Aysha Zahoor, who became deaf at the very young age of 13. In an exclusive sit-down with Standard Entertainment & Lifestyle, Samm shared his experience of being married to a person abled differently and in the limelight.
"Aysha and I were friends for quite some time before we got married. We used to comment on each other's social media posts, you know Instagram, Snapchat. We used to talk on Snapchat so much because on Snapchat, you can post many stories," he recalled how they met.
The young but shy actor, who is slowly learning his craft in the entertainment industry, shared that when he first met his wife, they were oceans away. Aysha was based in London, while Samm was in Nairobi. However, the distance between them never became an issue.
View this post on Instagram
"She used to come to Nairobi but really never explored the city," he narrated, adding, "She was intrigued by the way I live my life because I am an outgoing person. So, one day she decided to come to Nairobi with her best friend."
Samm, a chef by profession with a background in the hospitality industry, said that when he met his wife for the first time in-person in Nairobi, her beauty and vibrant personality captured his attention which eventually won his heart.
"I was like a tour guide to them when she first came to Nairobi. I enjoyed showing them around and then one thing led to another," he added.
Before Samm met Aysha, the two had talked about her condition. At first, Samm did not believe her as he wondered how it could be possible for the two to have really great and deep conversations.
"We spoke about it before we even met. The first few times we were starting out she told me she was deaf. I really did not believe her. It did not make sense to me. Someone I am talking to; how could she be deaf?" he paused.
Samm stated that before he met Aysha, like many Kenyans or even Africans, he never knew anything about a cochlear implant - a small, complex electronic device that helps to provide a sense of sound to a person who is profoundly deaf. Based on his experience, Samm believes that raising awareness around such matters could really help society in a better way.
"I did not know about the hearing aid. So, she was narrating to me how the cochlear implant works and all that. But at the back of my mind, I never believed that she is really deaf till I met her," he added.
Aysha's disability never changed the way he felt towards her. In fact, according to him, it was intriguing.
View this post on Instagram
"To be honest I was intrigued. You are deaf but still I can understand you and you can understand me perfectly. Throughout our relationship and even now in marriage, communication has never been a barrier. Her condition has never for a second affected anything in our relationship. I am able to understand her and she understands me so well," he shared.
Samm, who is currently in London working as a Chef and partly as a fashion stylist, added that Aysha's personality keeps the spark in their relationship.
"To be honest with you, I do not even notice her condition at all. Her personality is everything to me," he added.
Aysha and Samm have been married for five years now. Aysha is a lifestyle content creator who explores lifestyle topics, and issues on her YouTube Channel called Aysha'z Way.