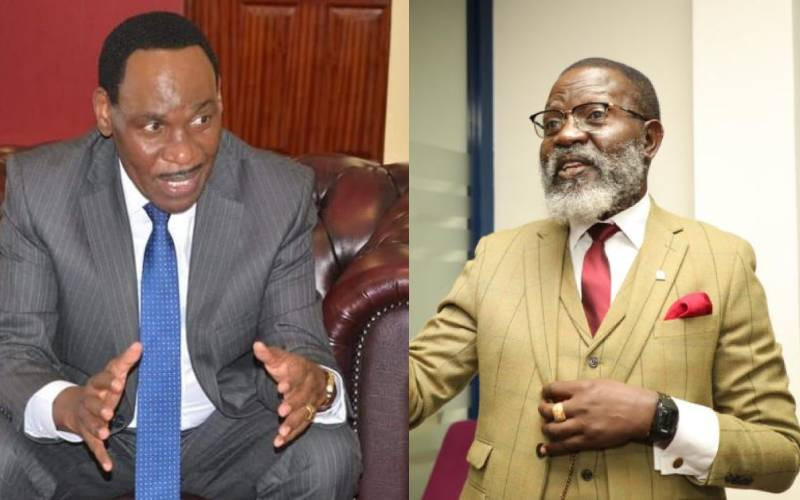 Music Copyright Society of Kenya (MCSK) Chief Executive Officer, Dr. Ezekiel Mutua, has praised Roots party presidential candidate Prof. George Wajackoyah's efforts in bringing hope to the youths with his campaign and vision.

Sharing his sentiments via Twitter, the former Kenya Film and Classification Board boss described the political aspirant as not only a presidential candidate but a phenomenon.
"Prof. George Wajackoyah is not just a Presidential candidate. He's a phenomenon. He's giving hope to the youth who feel hopeless. If a society was to lose everything, it must never lose hope. Wajackoyah offers a breath of fresh air. He speaks to the aspirations of the youth," he wrote.
If elected into office, the Roots party leader vowed to fix Kenya's ailing economy with numerous economic ventures, including legalizing marijuana, and the exportation of dog and snake meat, to increase the country's revenue.
"When elected I will legalise marijuana farming as it will increase the country's revenue and create more jobs for unemployed youth. A 50 Kg of bhang goes for $350 and will fetch a lot of money to repay the Chinese loans. This will help address the challenges we are facing and pay the country's debts," said Wajackoyah.
The political aspirant also stated that his government would prioritize addressing the country's high unemployment level by deporting unnecessary foreign workers.
"We will ensure we have Chinese citizens who have taken jobs in the country deported if elected. We have qualified people in this country to do those jobs.
"In China, if you are corrupt you're being hanged while in Japan you hang yourselves yet in Kenya you get elected to parliament living Kenyans to continue languishing in poverty because of corruption," he added.
Although optimistic about his win in the oncoming general elections, the roots party leader recently disclosed that unknown people came to his house to try and talk him out of the presidential race.
According to Wajackoyah, they offered him a cash prize of Sh200 million if he withdrew his bid in the presidential race.
"Recently they came to my place and said that this Wajackoyah, why don't we just pay him Sh200 million so that he can drop his bid.
"I looked at them and told them that I am the most learned man in Africa and I cannot be compromised. I have worked in higher places like the United Kingdom and I can never betray the cause of young people," said Wajackoyah.