New technology to aid global warming fight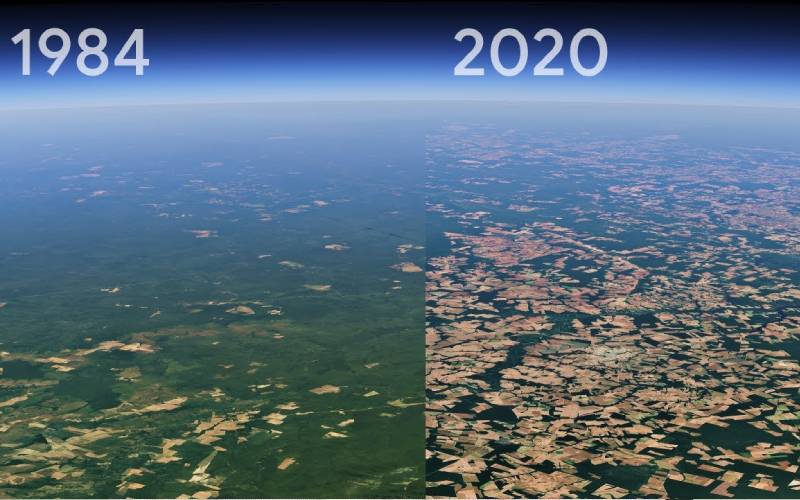 Twenty-four million satellite images collected over 37 years, quadrillions of pixels, more than two million processing hours across thousands of machines and the result was a single 4.4 terapixel-sized video mosaic on Google Earth.
From creating a 3D (3 dimensional) replica of the world to an interactive 4D experience, Google Earth has come a long way in supporting exploration needs for everyone.
A 3D image has x, y and z axes - length, width and height. With the addition of the element of time, 3D transforms to 4D.
"In the biggest update to Google Earth since 2017, you can now see our planet in an entirely new dimension: time. Now anyone can watch time unfold and witness nearly four decades of planetary change," said the Director Google Earth, Earth Engine and Outreach Rebecca Moore following the official launch of the time-lapse video called The Timelapse in Google Earth.
"Our planet has seen rapid environmental change in the past half-century — more than any other point in human history. Many of us have experienced these changes in our own communities; I myself was among the thousands of Californians evacuated from their homes during the state's wildfires last year."
The Timelapse in Google Earth gives yet a clearer picture of the effects of climate change over time and land use and land cover to determine the impact of human activity on the environment over time.
"For other people, the effects of climate change feel abstract and far away like melting ice caps and receding glaciers. With Timelapse in Google Earth, we have a clearer picture of our changing planet right at our fingertips — one that shows not just problems but also solutions, as well as mesmerisingly beautiful natural phenomena that unfold over decades," said Ms Moore.
United States National Aeronautics and Space Administration (NASA) and the United States Geological Survey's (USGS) Landsat programme, the world's first (and longest-running) civilian Earth observation programme, together with the European Union's Copernicus programme with its Sentinel satellites, contributed the images that were used to create the video.
"We worked with experts at Carnegie Mellon University's CREATE Lab to develop the technology behind Timelapse, and we worked with them again to make sense of what we were seeing.