E-commerce saves us from counterfeits, Infinix says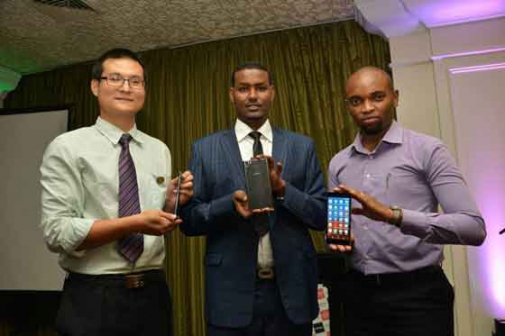 Hanson Wang Infinix KOM Manager Kenya, Isham Merila and Infinix Kenya Marketing representative John Gitau display the newly launched infinix Zero 3 phone in Nairobi.
NAIROBI, KENYA: Smartphone manufacturer Infinix Mobility has revealed that the decision to eliminate middle men has reduced chances of having their products infiltrated by counterfeits.
The manufacturer noted that whereas other bigger brands were having their products mimicked, the adoption of e-commerce in sales has maintained the authenticity of their products.
"We no longer work with middle men as all our products are purchased and delivered through e-commerce for our customers who are far. It is both in the spirit of making use of the growing technological platform and but at the same time improving the quality of our customer service," said Infinix Mobility country Manager Carter Tang.
He added that the stringent regulations on technological products back in their home country
Mr Tang was speaking in Nairobi during the launch of yet another smartphone brand 'Infinix Zero 3' that is said to target the middle income earners and the youth demographic since its entry in the market in 2014.
This is after launching the Infinix Note 2(x600) in December 2015. Some of the special features of the phone are a gorilla scratch free screen, 20.7 megapixel camera with a dual LED flash, HDR and face detection software for eye-catching images recording ultra-high definition video on 4k and a 64-bit 2.4 gigahertz speed.
Tang said that it was time that companies come up quality products that were still affordable to the mass market.
"Kenya's reception to new ideas and products of technology is overwhelming which an opportunity manufactures should leverage on. As a new entry in the market, the response has been positive," he said.
Infinix estimates to move about 50,000 pieces of their products every month claiming a market share of 20 percent which is 500,000 of all phone s being sold annually.
According to Safaricom the penetration of smart phones stands at 67 percent of all phones being sold.
Other attractive attributes of the Infinix zero 3 are: huge 5.5-inch IPS display with Full HD 1080 x 1920 resolution, which translates into a high pixel density of about 401 pixels per inch.
The device comes in two models; the 16GB ROM model and the 32GB ROM with both expandable to up to 2TB using external SD card.
The Infinix Zero 3 smartphone features a 20.7--?megapixel--?rear camera with 0.1s PDAF
Flash focus feature to give users a better opportunity to capture special moments.
The camera also comes with an ability to capture video in Ultra High Definition and in
slow motion.
Front camera spots 5--?magapixel with front LED flash providing superior images delivered through the front camera.
The 4G enabled device also features a Real OCTA-64-bit 2.2 GHz CPU and 3GB RAM
-ensuring that it delivers breathtaking speeds in functionality.
The Infinix Zero 3 phone also comes in a sleek design – spotting a 5.5 inch Full HD screen
-with a 3030 mAh battery that ensures that users get to use their device at full functionality for longer than most smart devices.
The ZERO3 also features long--?lasting power with an energy density of up to 643WH/L.
Customers will be able to access this product from Monday at Sh18,500.