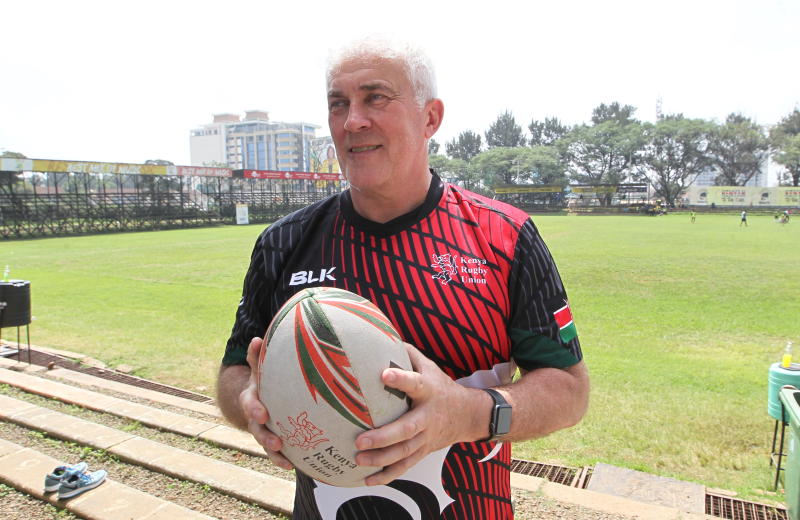 Focus will be on newly appointed Kenya Sevens head coach Damian McGrath as Shujaa seek to bounce back at the seventh leg of the World Rugby Sevens Series, Toulouse Sevens which kicks off today at the Stade Ernest-Wallon in France.
McGrath replaced Innocent Simiyu last week after the former Kenyan international was shown the door following a series of poor results.
Shujaa have blown hot and cold since the beginning of the year where they have failed to go past the group stage in their last three legs in the World Sevens Series.
Kenya, currently ranked 10th in the latest rankings, collected one point in Malaga, eight points in Seville, five in Singapore and one point in the last leg in Vancouver, Canada.
McGrath's first assignment will be to implement a real winning mentality in the team which not only entertain the rugby fans across the world with their famous dance styles and sheer strength display on the pitch but also win matches.
The 64-year-old Briton said that it's his desire to bring some of the success he has had with Samoa, England, Canada and Germany Sevens teams to Kenya.
"The skills are poor, I won't hide from that. The style of play also not identifiable. It was difficult to see what they were trying to do but I am hoping that we can make some adjustments," he said after being unveiled.
"I don't want to play in a type of way that takes away the strength of Kenyan rugby with the speed, flair and athleticism. We need to find a way where we can use that to our advantage and so I think we will try to play a game that suites that and also heavily on skill."
Shujaa have been pooled in Group B where they will renew their rivalry with Tokyo Olympic champions Fiji, hosts France and Wales.
Transitioning into a new squad will be top of his agenda and he has shown it by immediately slotting in exciting talent in the form of Blak Blad's Archadius Khwesa and Nondescripts' Benson Salem.
Khwesa and Salem are in line for their debuts in the squad that will be captained by Nelson Oyoo as Alvin Otieno, Timothy Mmasi and Johnstone Olindi return to the side after missing out the last two legs.
Shujaa will kick off their Group B campaign with a clash against Fiji at 3.34pm (EAT) before facing France tonight (11.05pm). They will play their last group match against Wales tomorrow at 3.12pm.