Family counts losses as gullies crisis persists in Nyakach
By MANGOA MOSOTA
The elderly woman holds her cheeks with her palms and bows her head, despair written all over her face. When she raises her head, she avoids looking directly into my eyes and instead stares blankly into space.
Awuor has witnessed the bodies of her two kin, who had been buried, washed down the stream thanks to the ever-widening gullies in the area.
Farming is impossible in this region and the skin of a cow she keeps is a grim reminder of the massive loss she has suffered as her animals fall into the gullies and died.
Roads that made accessibility in the villages and proximity to adjacent areas possible have since been cut off.
Devastation
In her 57 years of marriage, Naomi Awuor has witnessed devastation, which she narrates with a pained look on a face that is difficult to conceal. Her narration would easily pass as fiction, until one visits large tracks of degraded land of Lower Nyakach, in Kisumu County.
Gullies have glopped her family's almost entire land.
In her owns words, she and her family are now "landlocked". Awuor, 75, and her husband Gilbert Nyang'acha, owned five acres of agriculturally productive land. Presently, only a quarter of an acre of that land can support farming activities.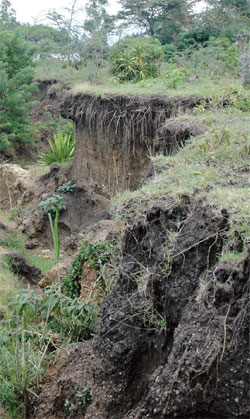 A section of once arable land in Nyakach that has been reduced to a wasteland. The enduring gullies problem in Lower Nyakach, Kisumu County, has also seen roads in the area cut off. [PHOTOS: MANGOA MOSOTA/STANDARD]
"When I got married in 1954, our entire land was agriculturally productive. We planted various crops such as cassava, sorghum, maize and onions. I remember at one time, we harvested close to ten sacks of maize," recalls the mother of six whose only farming activity is a kitchen garden where she grows onions.
'Gullies of death'
She says the last time she planted and harvested maize was two years ago, and it was less than a sack.
Awuor's sad tale, and indeed that of many other locals, epitomises the destruction caused by Katuk-Odeyo Gullies, which would fittingly be described as 'gullies of death'. An estimated 500 homesteads are grappling with the effects of land degradation in the region.
The effects of the depletion are so severe that a 35-kilometre road that used to connect Store Pamba Shopping Centre, along Kisumu-Kisii road, to Kapsorok is no more.
"Lorries would transport sand from Lake Victoria to Kericho, through this road. It was even a shortcut for people from the expansive Nyakach area travelling to Kericho town, as public transport vehicles frequently used it," Awuor says.
Rendered homeless
Several feeder roads have also been destroyed.
And for over 35 years that her husband worked at a Kericho hotel, she frequently took a matatu just outside their homestead to visit her spouse. But that is not possible now.
Hundreds of locals now fear they may soon be rendered homeless, and may also not have land to grow crops as the situation is worsening.
Interestingly, the residents would rather not talk about their imminent annihilation.
But Awuor agonisingly agrees to share her sad experiences with The Standard On Saturday. About ten year ago, the graves of two relatives faced the wrath of the gullies. It was hurting for the family to watch the skeleton of one of them being washed downstream.
"The elders told us that we had to carry out reburials (duogo iko) of the bodies. But we were unable to carry out the rituals since we did not have money to buy the required items. There was need for the family to make available things such as a number of animals for sacrifice," she says.
She now fears the remains may have ended up in Lake Victoria.
Together with her co-wife Jennifer Awino, 60, Awuor, has had to relocate four times, as the gullies swallowed swathes of land close to their doorsteps.
Hospitalised
"The first time we relocated was in 1967 and the last time was two years ago," says Awuor, who suffered a sprain on her back as she tethered one of her cows early this year.
And she adds: "I thank God that I am alive. I almost fell deep into a section of the gullies but roots and stems of trees held me." Due to the injuries she sustained during the incident in April, she was admitted to the Nyanza Provincial Hospital for two weeks.
Daily struggle
"My mother's portion of land was entirely swallowed by the gullies two years ago, so I had to buy her a quarter acre piece of land from a neighbour that was adjacent to the gullies. Up to two years ago, she lived in the same village and location as my step mother," says Peris Anyango, 50, a daughter to one of Awuor's co-wives. Anyango, who is married in the nearby Kamula Village, says she would not watch her mother become homeless.
"I grew up seeing my parents struggle to fend for my siblings and myself as the gullies made life a daily struggle," says the mother of seven, as she points to a section that her mother's house was once situated, but is now a 20 metre-deep gulley.
She also says her family has lost several animals that fell into the gullies, the latest such incident being early this year.
Anyango says transporting bodies for burial from mortuaries is a nightmarish experience as the roads have been cut off. She says residents have to carry the coffins for more than two kilometres, as vehicles cannot access the homes.
"And my father has to go around a distance of almost half a kilometre to move from my mother's house to that of my step-mother."
Billion shilling projects fail to solve gullies menace
I approach an elderly man to seek his views on the effects of Katuk-Odeyo Gullies on the livelihoods of locals. However, the resident of Aol village in Nyakach District who is busy clearing a bush on his piece of land, does appear keen to offer any information.