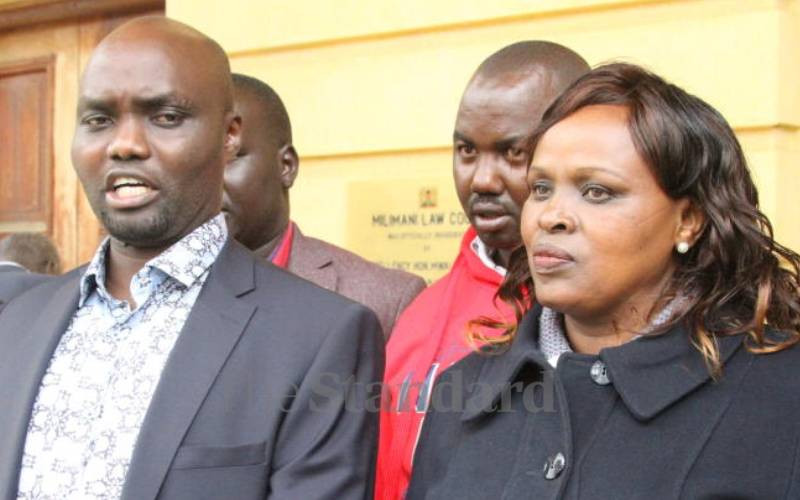 Elgeyo Marakwet Deputy Governor Wisley Rotich wants Kenya Forest Service wardens who allegedly opened fire on residents, reportedly killing two of them in Msekekwa on Tuesday, arrested and prosecuted.
The two slain locals were among residents who were seeking answers over the holding of more than 20 sheep on Sunday.
Two men sustained gunshot wounds in the confrontation.
The sheep were mauled by an unknown wild animal while being held at Msekekwa KFS station on Sunday night, sparking protests on Monday. And yesterday, a top North Rift KFS official said all wardens at the station had been transferred. Speaking after visiting the two men who were shot during the protest, Mr Rotich said the culprits should instead be arrested, probed and prosecuted.
The sheep had been confiscated by the officers for illegal grazing in the forest.
"The KFS officials manning the station where residents were shot should be held responsible. What we need is justice. We can't lose people to bandits in Kerio Valley and to forest guards in Msekekwa," he said
The Deputy Governor asked government agencies to investigate the matter.
"It is unbelievable that officers could open fire on locals who were peacefully protesting the killing of their animals, which were under the custody of KFS wardens. The sheep were their only source of their income," said Rotich.
Rotich called for stern action against the wardens, saying their actions were unprofessional.
The Deputy Governor said swift action will restore good relations between locals and KFS officials.
"It is the locals who are protecting this forest. Previous attempts to reconcile the community and the officers have failed because of some officer's high-handedness," Rotich added.
Among those killed during the shooting was a boda boda rider.
Acting Head of North Rift Conservancy Anthony Musyoka said the station manager and all staff in Msekekwa had been transferred.
"I am sorry...on behalf of KFS, I apologise for what happened. I know how painful it is, but please allow us to conclude investigations," he pleaded with residents. Keiyo North OCPD Tom Makori said the Directorate of Criminal Investigations (DCI) was handling the matter. "Two people were killed. The DCI are investigating the matter. We are waiting for their report," he told reporters.