Over 200 truck drivers face the sack over protest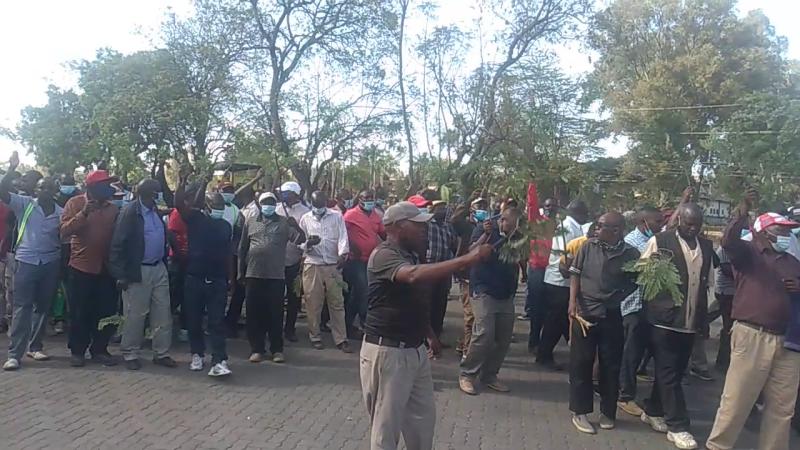 Over 200 truck drivers at Menengai Oil Refineries Limited were on Monday afternoon blocked from accessing the company after protesting reduced transport allowances.
Theophilus Nyata, who has been a truck driver for over seven years is one of those affected.
Speaking to The Standard, Nyata said him and other drivers were unhappy with the reduced transport allowance and raised the issue with the management of the company on Monday morning and they were promised that the issue would be resolved by today.
However, that same afternoon when they returned from lunch, the drivers were blocked from accessing the premises.
"We also saw a board with a vacancy notice for drivers," said Nyata.
Nyata who plies the Nakuru-Mombasa route, said that when he joined the company, he was earning a mileage allowance of Sh4,500.
"The allowance was reduced to Sh3,500 on pretext of Covid-19 pandemic. After three months, reduced it was to Sh2,700 and last week Thursday, they informed us that they will further reduce it to Sh1,300," said Nyata.
Francis Mbugua a driver of four years said he is now being paid Sh650 allowance down from Sh1,900.
"I ferry goods from Nakuru to Meru and get paid Sh650. I have to use Sh150 for security during the night. What will I do with Sh500?" lamented Mbugua. "We are seeing vacancy notices and we fear that we may have been dismissed from work without any notice," he added.
The Standard visited the company and found the drivers outside the closed gate. A notice advertising the drivers' position had been placed on the gate.
When we reached out to transport manager Vinay Vijj via phone, he said: "We have no comment over the allegations but as soon as we do, we will respond."