Leaders want security beefed up in Marsabit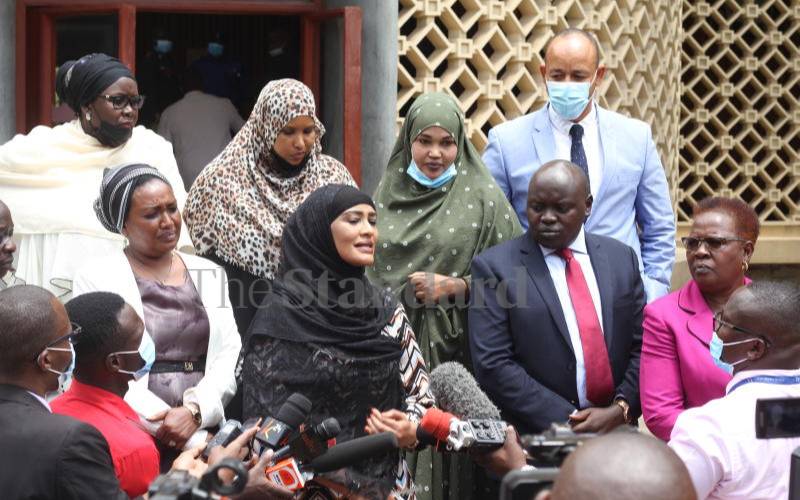 Lawmakers from northern Kenya have demanded state intervention to end ongoing skirmishes in Marsabit County that have so far claimed several lives.
The leaders condemned clan conflict in the region and linked it to political differences among local politicians.
Isiolo Woman Representative Jaldesa Rehema and nominated senators Falhada Imana and Naomi Waqo appealed to local politicians to preach peace and unite the warring factions.
On Thursday, six people were reportedly killed and at least 11 others wounded in a vehicle. The vehicle was heading to Saku from Marsabit town.
The attack took place barely a day after 14 others were killed in a gunfight between herders and suspected bandits in Suiyan, Samburu County. The gunfire lasted about 12 hours.
While addressing a press briefing at Parliament Buildings yesterday, the MPs called on Inspector General of Police Hilary Mutyambai to deploy officers to the volatile area.
The leaders want a multi-agency team deployed in the region in dealing with the spate of insecurity that has resulted in loss of lives and destruction of property.
"We urge the security team to bring to book the perpetrators, financiers, schemers and executors of these savage acts of violence," states a joint statement.
It added, "We call upon residents of Marsabit County and especially Saku Constituency to heed the call for a ceasefire and embrace dialogue spearheaded by the National Cohesion and Integration Commission (NCIC) in partnership with peace and security actors."
The leaders said the skirmishes have been fanned by politicians who keep making inflammatory remarks.
They said some leaders were also using youth to make inflammatory remarks on social media. They said such inciting remarks were to blame for the current state of insecurity in the region.
Waqo said it was time the county government deployed resources in ensuring peace in the region. He urged the devolved unit to suspend development projects and focus on returning normalcy.
In a previous statement, Marsabit Governor Mohamud Ali described the perpetrators as enemies keen to slow down any meaningful development projects in the county.
He termed the attacks as well calculated moves engineered to inflict the highest amount of pain on the members of the Borana Community and to slow down the activities of the county government.
"Whenever there are activities that we plan, then the executors of these terrible acts normally move into action," said the county boss.
He questioned why Marsabit has to continue experiencing skirmishes when the country has an elaborate intelligence network.
"While we don't expect security agents to be everywhere every time I think, because of the elaborate intelligence networks we have in this country, the planners of these activities ought to have been taken in by now," he said.