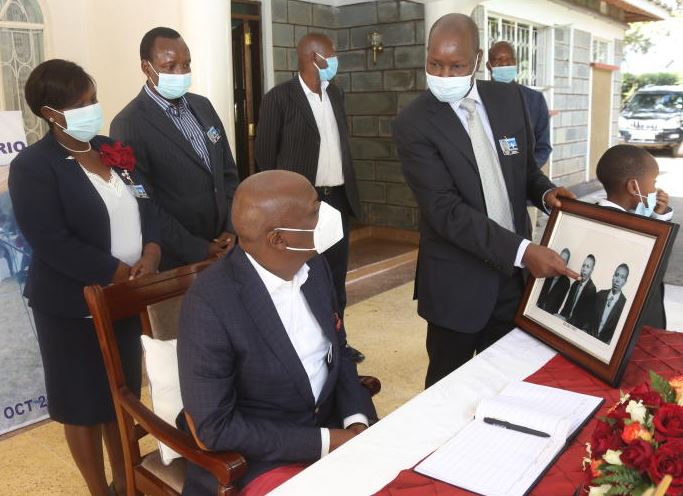 Baringo Senator Gideon Moi has described Simbolei Kichumba Lokorio as a well-known patriarch who played a great role in development and education in Baringo North.
Lokorio, the father of long-serving personal secretary of the late retired President Daniel Moi, John Lokorio, was laid to rest at his home in Ngata-Rongai, Nakuru County at the weekend. He was 88.
"While serving as a councillor, Lokorio led by example in ensuring development was achieved in his area. Many roads in Bartabwa were opened up for the first time under his leadership," said Gideon.
The senator described Lokorio's death as a blow to Baringo, saying despite his advanced age, he continued to give wise counsel to the current leaders.
"For years, he served as Kanu chairman in his ward and had no boundaries with other leaders. He will be remembered as a legend who had a big role in shaping Baringo politics and enlightening the community on diverse matters," said the senator.
Read More
He said the death shocked many, coming days after his grandson Chris Kaimoi died in the US after a short illness.
"This is a hard time for the family, but we pray for them to get strong. It is unfortunate that his grandson Kaimoi died on October 6 and he died on October 17," said Gideon.
John described his father as a strong pillar in the family and community, adding he championed for equal rights for either gender amid strong opposing traditional beliefs.
"Our father never had health issues until his demise. He died peacefully in his sleep after excusing himself to go rest on the fateful night."
Kichumba's daughter Liliann Chesikaw said the tough choices their father made attracted criticism from the community.
"We were among the first girls to be taken to school in the village. Other men criticised and mocked him for that," said Chesikaw, the director of the Institute of Gender and Development Studies at Egerton University.