End of 30 years wait for title deeds as sins of past directors exposed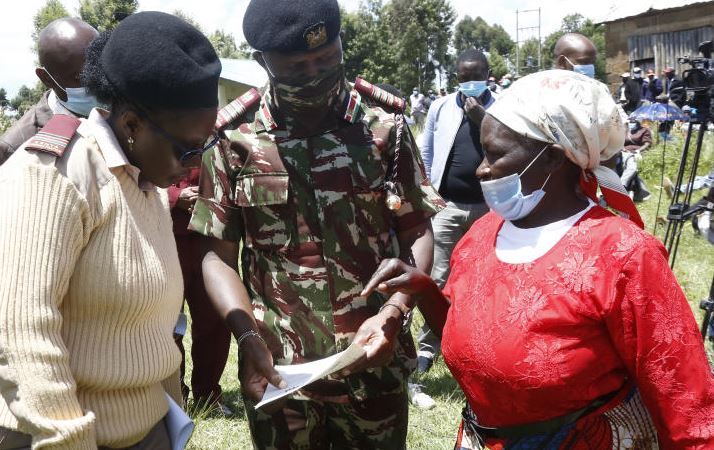 Over 400 landowners in Molo received their title deeds yesterday, marking an end to a 56-year wait that was characterised by wrangles and conmanship.
During the event presided over by Rift Valley Regional Commissioner George Natembeya, optimism was palpable on the faces of members of Ndimo Farmers Cooperative Society.
Mr Natembeya described the cooperative as one of the most troubled land-buying companies.
"I am yet to come across a troubled cooperative like Ndimo. There has been a lot of swindling, leadership wrangles and endless court cases in the journey to get these title deeds," he said.
The cooperative, which has 599 members with each owning 1.5 acres, bought the land from a white settler in 1964, a year after country attained independence.
Jane Wangari, an octogenarian, was the first to receive her title deed and could not hide her joy.
"I believe this is the beginning of good days and peace of mind with my neighbours. We have struggled for so long to get these documents," said Wangari.
The members have been struggling with a divided leadership, some of whom conned them and issued them with fake deeds that were later revoked.
The misdeeds of past directors, some of whom are now deceased, emerged yesterday as glaring anomalies were noted.
Hannah Nyambura, 72, had inherited plot number 159 from her late mother but her parcel was subdivided among her two neighbours on either side.
Nyambura, who has built a home on the parcel buried her mother and son on it, was yesterday issued with a title deed for plot number four currently occupied by another person.
"The land was subdivided in 1982 and my mother was allocated number 159. She died in 1989. I paid all the requisite fees to the cooperative and completed the succession process. I am shocked that my title deed shows I should be on parcel number four," said Nyambura yesterday.
Titling process
Nyambura's case is among several other irregularities reported during the titling process, which members appealed to the Government to resolve.
Natembeya reassured them of the Government's support in settling disputes arising from errors in the titling process
"I know it is confusing, but these errors should not set you up for war with each other. No member should pay any additional fees to the directors. The matter should be directly handled through my office and the county lands registry," said Natembeya.
Kimani Gathundo narrated how he was swindled money by a splinter group of directors which later handed him a fake deed that was revoked.
Leah Mwaura, a retired teacher, said she relocated to the area in the 1960s alongside her husband and the journey to legally own what they worked hard for had been treacherous.
Natembeya called on the landowners to seek alternative dispute resolution other than law courts.