Never too old for love: 110-year-old man renews vows with wife of 70 years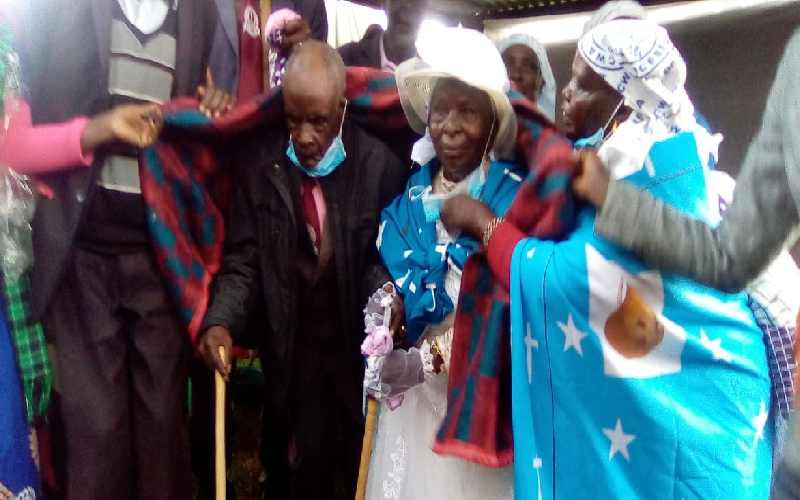 Despite their advancing age, 110-year-old Mzee John Kimeli Yama and his lovely wife Mary Chemesunde 90 treated villagers to a spectacular ceremony when they renewed their marital vows.
Having lived as husband and wife for over 70 years, the couple on Friday thrilled villagers of Kipsebwo in Nandi Hills, Nandi County when they hosted them to a renewed wedding ceremony to rekindle their union.
Clerics, villagers, their children, great-grandchildren and great-great-grandchildren witnessed the colourful ceremony of the two lovers, with husband clad in designer suit and wife in a linen wedding dress as both matched down the aisle with walking sticks.
The jovial couple that got married in the early 1940s in a Kalenjin cultural wedding and is blessed with four children, resolved to make a new covenant in a ceremony presided over by Catholic Priest Michael Langat of Nandi Hills Parish on Friday.
The ceremony also saw villagers feast with delicacies including rice, goat meat among other dishes.
It was until their sunset years when Mzee Yama as he is famously known, is among the few elders of his age remaining requested his children to organise for the renewal.
As narrated by one of their sons, Benjamin Silqich, he said the two remained staunch catholic faithful despite spirited attempts from their children to influence them to join Adventist church.
"My father requested me to organise for their anniversary wedding ceremony. I suggested it be conducted by the Adventist church but he insisted on a wedding in the church norms that baptised them," said Silqich.
Mzee Yama and Chemesunde could not hide their joy as their more than 40 grandchildren held them side by side while dancing, they were carried by the modern ceremonial tunes swinging side by side.
Their selected four pairs of best men and women also aged 70 and above accompanied them to the podium to exchange marriage vows in Kalenjin dialect though for Mr Yama, he could not repeat the words clearly but he mimicked one word after the other.
Before Fr Lang'at, Mr Yama, the father of four alongside his wife firmly held a knife to cut a designed cake embroiled '70 years Anniversary' that was followed by thunderous applause from more than 100 witnesses who thronged their compound.
Their second-born son, Silqich said after a long consultation over the movement logistics, they resorted to hold their anniversary ceremony at home for conveniences of their parents.
"Since my parents are church goers, the catholic priest serving Nandi hills Parish could not hesitate presiding over the ceremony. They normally come home to share with them spiritual moral support, rather than having them walk to the local church," he said.
While expressing herself, Chemesunde lack words to say only punctuating her sentiments with gratitude having journeyed with her husband since they met during the colonial period. They have lived happily and healthy with God blessing them with their children and good neighbours.
"I only thank everybody who has played any role in the anniversary. We have come a long way, facing all good and bad but we never separated to date being the only wife," she narrated.
Father Lang'at said the church took the monogamous marriage as an exemplary institution that should be emulated in the current society.
"We took the step as the church that believes in the sacrosanct principles of marriage to pray for the couples that have remained faithful and successfully adhered to the church doctrines," said Fr Lang'at.
He also urged the young people to respect their marriages and nurture them for future generation citing that the majority of the youths do not get into the marriages for fear of responsibilities and accountability.
Nandi Hills MCA called upon the families to emulate Mzee Yama's family life claiming that social conflicts rife in the most families which have seen most of the families divorcing thus result in poor upbringing of children.
"We glad that as the young generation realises the dignity of remaining faithful and responsible to our marriages, these send a clear message to us of strongly upholding spiritual principles as the foundation of our families," he reiterated.