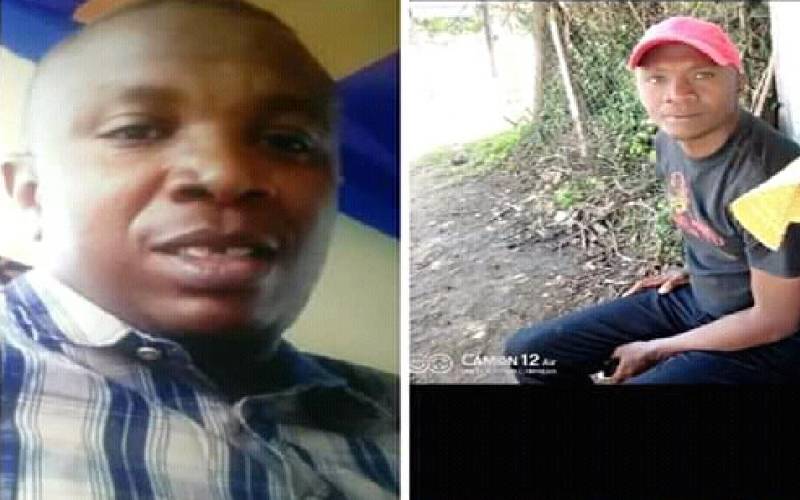 Two brothers that went missing in Nakuru County a fortnight ago are yet to be found.
Yesterday family members said they had concentrated their search around Nakuru Golf Cub that borders Menengai Forest, the last place where a mobile phone signal for one of the siblings was last located.
Joseph Macharia, aged 39, and a teacher at Kijabe Girls, and his brother Moses Kamau, 37, went missing in Nakuru town on the same date.
Their aunt Grace Njoki yesterday told The Standard they began the search in the forest last Friday but had been unsuccessful.
Read More
"We decided to start here since this is where my nephews may have been before they disappeared. We have combed the forest but none has so far been found," said Njoki.
She said officers aware of the matter, but who requested anonymity because they are not authorised to speak on the matter, intimated to them that Kamau's mobile phone went off in the area on Monday at around 1.29pm.
"Investigators are still tracing the two, but as a family, we are worried about their safety. We are hoping they will be found," said a devastated Ms Njoki.
Njoki added: "We have been finding clothes in the bush, but none belongs to our nephew. What they wore before they went missing is well known to the family".
Before beginning the search, the family reported to Show Ground Police Station, but no official report was recorded, as the matter was under investigation by another security agency.
Without interruption
She said the reason for informing the police was to enable them search without any interruption. "Though we have faint hope about finding our loved ones, we are closely working with the police in the search," she said.
Further, she said the family was fundraising to enable them widen the search area and look into other facilities like hospitals and mortuaries.
Over the weekend, the family engaged wives of the two men to try and dig up more information that could help them in their search.
Nakuru Criminal Investigation lead Michael Mwenze said it was premature to give a comprehensive report on the findings, but maintained investigations are ongoing.
Mwenze said several family members had recorded statements with the police over the disappearances.
"We are tracking mobile phones of the two to know who they communicated with before they went missing. However, we cannot comprehensively state what happened to them," said Mr Mwenze.
Macharia lived with his family in Salgaa trading centre on the Nakuru-Eldoret highway, while Kamau resided at Kwa Amos in Bahati Sub-county. Their ancestral home is in Engashura.
Macharia was on his way from Salgaa to a wedding committee meeting for his primary school teacher's child at Engashura.
He was expected to attend the committee meeting at around 10am on Monday, September 21. He met Kamau in Nakuru town at about 11am.
The two had a meal at a hotel, according to the family, but their whereabouts were not known thereafter.
On Friday evening, September 25, the family reported their disappearance at Kiugoine police station, and the matter was recorded in the Occurrence Book (OB) number 013/13/25/2020.
Another report was booked at Nakuru Central police station, OB number 33/27/9/2020.