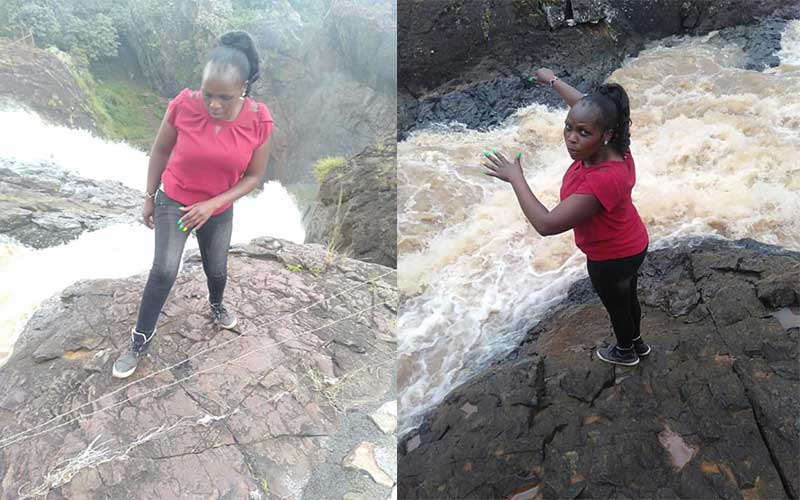 The 31-year-old Dorcas Jepkemboi Chumba who drowned last month at Chepkiit waterfalls in Nandi was buried today at her home in Kipsaos in Keiyo South, Elgeyo Marakwet County.
In an emotional send-off, family and friends eulogised Chumba as a hardworking and soft spoken lady that death had robbed them.
Chumba's brother Victor Kiptoo recounted how the family camped at the waterfall for 13 days to retrieve the body for a befitting send-off.
He narrated how desperate the search was and how heavy rains hindered the mission as the lives of the divers were also at risk.
Read More
"We were subjected to weeks of despair and anguish as efforts to retrieve the body seemed unsuccessful. Sometimes we lost hope and cried while some other days we were hopeful and prayed, but after the long search and with the help of locals and divers from various places, Chumba's body was finally retrieved," said Kiptoo.
The family thanked Uasin Gishu and Nandi counties for hiring divers from Cheploch, Bomet and local divers who helped them.
Chumba's body was found on Friday last week some two kilometres away from the waterfall.
She accidentally slipped and was swept away by the raging waters while on a picnic with her boyfriend Benjamin Kazungu on August 30.
Kazungu said that they had gone to the falls to enjoy the afternoon. The romantic picnic had been in their plans for long, only for it to turn tragic as Chumba while posing for pictures.
The photographs Kazungu took that afternoon with his phone were the last of Chumba, the exact moment she fell into the falls still edged in his memory.
But this was not the first death reported at the waterfall. For years the waterfall has claimed the lives of many young people.
Locals have called upon the County Government of Nandi to shut down the tourist attraction site to save lives.
Jonathan Too, a village elder who has lived in the area for decades said that at least two lives are lost at the site annually.
Some locals now want the county government to secure the place by fencing and making barriers to safeguard lives from dangerous zones and also providing tour guides.