Senator Langat released after denying incitement charges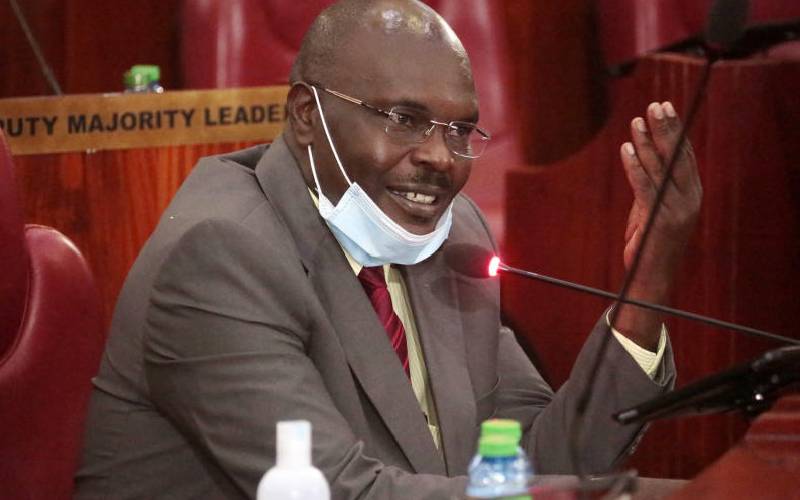 Bomet Senator Christopher Langat (pictured) has been released on a free bond after denying incitement charges labeled against him.
Senator Langat was questioned for two hours by detectives attached to the Bomet Central police station.
He is accused that on August 12 he mobilised 200 youths from Bomet to go fight neighbouring communities in Narok County.
According to his lawyer Nelson Havi, the police claimed Langat oversaw the administering of the youth at Amalo River in Narok before ferrying them to Olbosimoru in Narok to wage war.
Havi termed the claims wild, saying the senator was in Parliament on the said date.
"We have told the detectives the whereabouts of the senator on the said date and provided evidence to that effect," Havi added.
Langat said he is innocent and does not know why he was being framed.
"I am completely innocent and I am ready to go to the end and face my accusers in court," he said.
The senator, however, added that he is ready to forgive those being used in the plans to persecute him for political mileage.
"To say the truth I cannot plan to kill innocent people and to accuse me of orchestrating the killing of people from a neighbouring community is absurd."
Bomet Governor Hillary Barchok who led leaders from Bomet in showing solidarity with the senator said the accusations were not only shocking but wild.
Barchok said it is wrong for the government to pick a sensitive matter and use it in persecuting the senator politically.
"We know that his arrest has been motivated by the political situation in the country and we are saddened that the government has stooped this low to an extent of using a sensitive matter to pin down those with a varied opinion," he said.
Earlier, business was brought to a standstill in Bomet town after irate residents took to the streets to protest against the arrest of senator Langat.
Transport was disrupted along the busy Narok-Bomet highway as police engaged the protesters in running battles.
The youth led by Patrik Rotich and Bildad Cheruiyot accused the government of political witchhunt on leaders allied to Deputy President William Ruto.