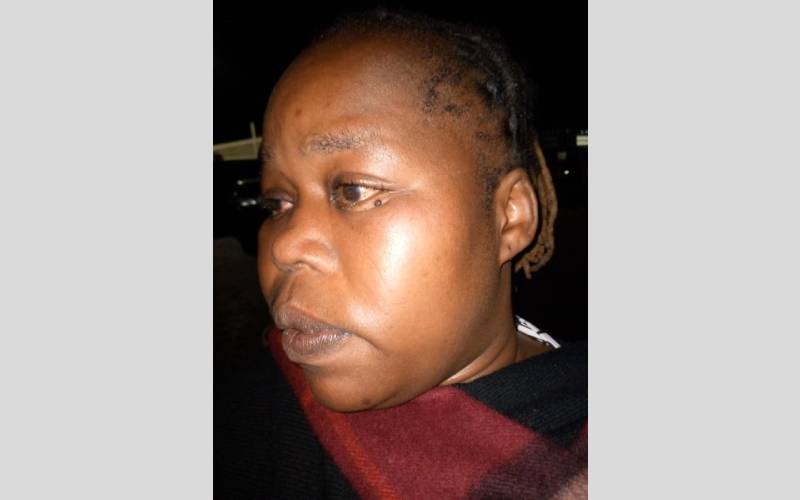 A 31-year-old woman at Shabab Estate in Nakuru is crying for justice after she was allegedly brutalised by police officers for failing to give a bribe.
Sheila Wekesa claimed she was allegedly clobbered by two police officers from Kaptembwo Police Station at a liquor shop in Bangladesh Estate.
Wekesa alleged that the plainclothes officers stormed the shop on August 13 at around 5pm demanding for money.
When she refused to bribe them, they picked several crates of alcohol worth Sh40,000 and loaded them in a police vehicle.
Bleeding from the jaws
Read More
They bundled Wekesa in the vehicle, accusing her of failing to adhere to set laws on sale of alcohol. One of them allegedly rained blows on her.
"Police officers came to the shop where I am an employee and asked for money, but I did not have any. They were agitated and started beating me," she said.
Prior to her arrest, the officers allegedly visited the shop on Thursday and demanded money.
Wekesa was put under custody despite bleeding from the jaws after she was brutalised.
She was later taken to Rift Valley Provincial General Hospital.
"I was dizzy after the beating and some officers were kind enough to take me for treatment," she said.
The victim fears police will not pursue the case.
The Standard managed to obtain a copy of a P3 form filled at Kaptembwo Police Station indicating that the woman was allegedly assaulted by a male individual, and not police officers as she claims. The statement was booked under OB55/14/8/2020
"Brief details of alleged offence show to have been assaulted by a male person. Please examine and ascertain degree of injuries," reads the P3 form in part.
During the arrest, she said she was directed to keep mum and obey orders.
"I am worried about my safety because the police threatened and accused me of defying their directive. They said I will learn to take the police seriously because they understand the law," she said.
After leaving hospital, she went to record a statement at Kaptwmebo Police Station, but was referred to Rhonda.
Efforts by The Standard to contact Nakuru Town West Sub-county Police Commander Samson Gathuku were futile, as he did not respond to our calls or text messages.
At the station, police accused the victim of conducting business in breach of public health protocols to curb spread of Covid-19.
"Wekesa is accused of contravening public health (Covid-19) prohibition of sale of alcohol," reads a statement made by Corporal Eunice Mulolo.
It adds, "I hereby believe that your failure to comply with this order constitutes a critical offence and may render you liable to prosecution in a court of law."