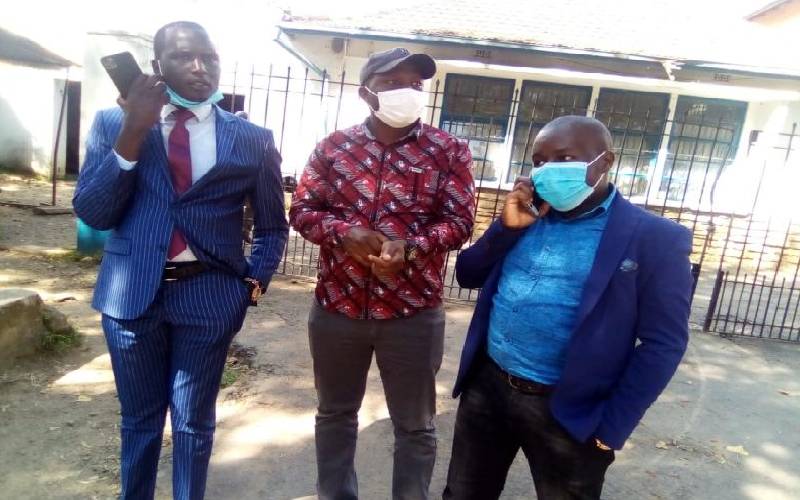 A Baringo politician was today grilled for three hours by detectives for allegedly badmouthing President Uhuru Kenyatta.
Gilbert Kiptalam, who unsuccessfully vied for Barwessa ward seat in 2017, appeared before the Rift Valley regional Criminal Investigations offices in Nakuru accompanied by two lawyers after failing to honour earlier summons.
At the offices, Kiptala was interrogated for about three hours and recorded a statement.
Nakuru County Criminal Investigations Officer Michael Mwenze said the politician, was summoned to record a statement over his utterances.
"The politician was summoned to appear before the DCI following a video clip he recorded that went viral on his Facebook account, insulting the president," Mwenze said.
Mwenze said though every Kenyan has freedom of expression, the utterances were disrespectful, aimed at putting a wedge between national and regional leadership.
"The utterances aims to incite locals against the presidency for being an underperformer and not being up to the task of serving Kenyans," he said.
In the video clip that went viral on Facebook and other social media platforms, Kiptala claims that President Uhuru was not concerned about insecurity matters of Baringo, an issue that continues to drag development.
He claimed the president support cattle rustling, by working closely with elected politicians behind the vice.
Further, he gives names of political leaders from Baringo behind cattle rustling, an issue that tends to disrespect leaders, as such has not been reported to security for investigations, according to Mwenze.