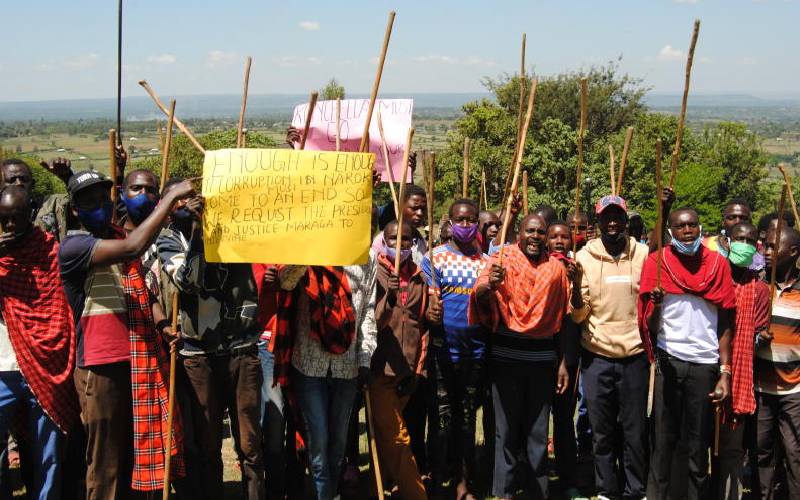 The battle over 7,000-hectare piece of land between Kilgoris MP Gideon Konchella and members of Olalui group ranch is not about to end anytime soon.
This comes after the ranch members vowed to contest a court decision in favour of the legislator.
The matter has been in court for the past 16 years.
The MP, his brother Ben ole Tina and John Kanchwel on Thursday last week won the right to own the piece of land in Transmara West and were subsequently given a right to evict those occupying it within 45 days.
However, the group ranch members disagreed with the judgement by Narok Environment and Lands Court Judge Justice Mohammed Kullow and have now vowed to seek redress at the Court of Appeal.
Led by their Chairman Michael ole Risa and vice chair Lemaiyan Lenanyokie they held demonstrations protesting the verdict and vowed to stay put.
"We moved to court 16 years ago over unfair division of land between the 198 legitimate members of the group ranch by the then committee.
"We wanted each member to have an equal share as we were seeing one member getting 1,500 hectares while another gets one-hectare," posed Risa.
He said the MP was a member just like others and that he had no right to have huge piece of land at the expense of other members.
"I am member number 15 and he is member number 78. We need equal shares," he said.
Vice chair Lenanyokie, says he moved to the now-disputed land in 1963 while the MP moved there in 1986.
"We have been following due legal process since then. We have tried to prove our case but the courts have let us down. Judge Kullow himself toured this place and ascertained what we were arguing in court but we are shocked with the ruling he made," said Mzee Lenanyokie, 74.
The MP owns 1,500 hectares, his brother Tina owns 72 hectares while Kanchwel occupies 80 hectares on the disputed property.
The court case was initially filed in Kisii Lands Court before it was transferred to Narok.
Speaking after the long awaited judgment, Konchellah in the company of his lawyer Martin Kamwaro said he owned the land 33 years ago when he was allocated the piece of land by his Uasin Gishu Clan members.
"I was still a military personnel when I owned this land in the year 1986. Today is a big relief for me and my family as we have proved that the land was not acquired illegally," said the MP.
The ranch member have now vowed never to relent in their quest for justice.
"We are aggrieved by the ruling and we are going to file an appeal in the court of appeal on Monday. We also want the Chief Justice David Maraga to investigate the Narok Lands Court, "said Moses Kimoine.