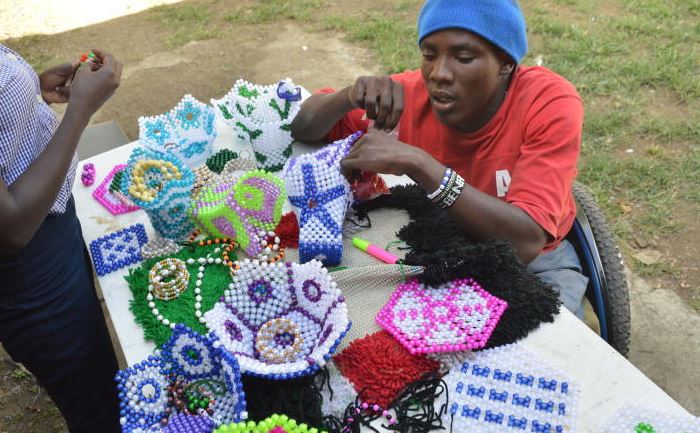 25-year-old Bernard Nderitu (pictured) drags himself to his wheelchair as his jeans sweep the floor. He holds the armrest tightly and attempts to lift himself up.
When we offered our helping hand, he shrugged it off politely and seconds later, he was at the comfort of his wheelchair, pushing himself to a table next to him.
It is on the table that Nderitu has been making his ends meet for the past three years after struggling in the streets for 22 years.
Although he is a class eight dropout, Nderitu has turned his life around over the past three years.
Born a cripple and raised in Bondeni slums of Nakuru County, Nderitu always depended on his family for support.
"I had to be taken to the toilet, bathed, fed and carried everywhere within and outside Nakuru town," said Nderitu.
Losing his father and sister at a younger age and living with his alcoholic mother, his life was coupled with pain and suffering.
The tragic loss devastated his mother Veronica Wanjiku who turned into an alcoholic, leaving him and his siblings alone, to fed for themselves.
Unlike other children, Nderitu took 11 years to complete his primary school education. He joined class eight in 2013 when he was 18 years.
"I lacked school fees and money for other needs. My school attendances were on and off. This affected my studies and I failed in the KCSE examinations," said Nderitu.
Things turned worse for him when his mother turned violent and abusive and started beating him when drunk.
Nderitu resorted to going to the streets of Nakuru near Railways and Bondeni Slums, the places he called his new homes for five years.
However, through the streets, he became friends with an organization that gave food to the streets. "One cold night was enough for the well-wishers to support me. I was a good street urchin and that's why it was easy to make friends," he said.
Through the charitable community of Sant Egidio, Nderitu was introduced to Kenya Youth Empowerment Programmes (KYOP) sponsored by the county and applied for Bead Work Course.
The course that ran for six months gave him experience. He started beading and crocheting wall mats. "I am able to make beaded ornaments; vessels, bangles, chains, bracelets, and bowels."
Three years later and Nderitu is not only independent but is supporting himself, his mother and his elder sister's children who are in school.
"I pay my bills and started a food business for my mum who is now reformed," he said.
He has rented a house at Bondeni and is rearing over 30 broilers at a room he partitioned in his house.
On a good day, Nderitu can make up to Sh1,500 and on a bad day, he can manage at least Sh500 after selling his products. He wants to expand his work and start other businesses. He also wants to open his own shop.
Sophia Arina
At the heart of Langalanga Estate lives Sophia Arina, a 28-year-old, who was born with her legs and left hand paralysed.
Arina led a desolate life for the 17 years as she was kept away from the world by her family who were embarrassed by her disability.
Arina ended up being supported by her mother Damar Omenda after her father neglected her.
However, a protracted Court case over Arina's deprival of her education saved her and she was released from the kitchen of their home and taken to school.
She joined Grade One in Pangani Special School when she was 18 years.
She later enrolled at Vocational Girls for her Fourth Grade in 2017. It was here that she started making woolen mats and doing beadwork.
She has since joined Nderitu and 14 other students with disabilities to earn a living through beadwork business.
Although deaf and dumb, Priscillah Achieng, a four form leaver is doing great in bead and wool work business.
Achieng was born in Kaptembwo and her social life lacking since she could only communicate with those who understand sign language.
She was however recruited to join Nderitu and Arina. "I finally found a place I belong and with this distraction, I no longer have an issue with socialising," she said.
She now has the skills to make baskets, bracelets, and has employed herself at the comfort of her home.
Nelly Chepkoech's life has been slow of mastery, but she too mastered the beadwork skills.
Born with cerebral palsy, Chepkoech, 24, was slow in everything. "I could not understand issues quickly, read nor study fast and that weighed on me so much," she said.
However, beadwork skills seem to be her place of mastery. Not only can she make the beads fast, but has mastered the designs and colours that are appealing to the eye.
The skills she said are more than she got in school where she did vocational training. "We were only taught theories. There were no practicals at all. We are grateful that we get a chance to improve our lives," she said.
Their teacher Violet Moshi trains over 14 persons with disability and old mothers on beadwork skills.
Ms Moshi who was assisting train PWDs at Pangani Special Schools said that the school only taught them theory work but once students attain 18 years, they are discontinued from school.
Moshi said that she has students like Nderitu and Arina who have come from far and now support their families.