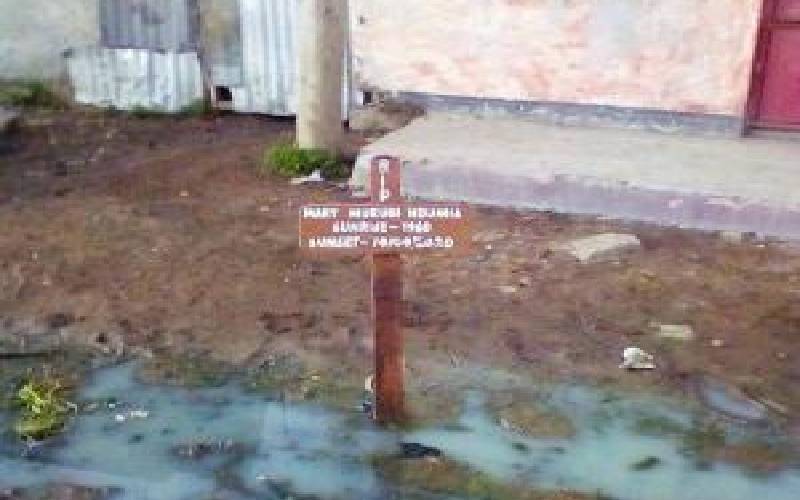 Residents of Kambi Somali estate in Gilgil woke up to to find crosses and wreaths placed outside their houses.
Fear and anxiety gripped the informal settlement off the Nairobi-Nakuru highway as police moved in to investigate the incident.
The crosses had been taken from the nearby Gilgil public cemetery before they were placed outside eight houses within the estate.
Residents gathered in small groups as they discussed the incident in hushed voices before the brave ones decided to burn them.
Read More
Village elder Jack Mungai said they do not know what inspired the incident as there was no dispute they were aware of.
He said they suspected some youths did it to scare off residents.
"The crosses have been stolen from the public cemetery and were placed strategically outside the eight houses but a religious leader has prayed and sanitized the affected homes," he said.
Jane Muthoni, who found a cross outside her home, said she is worried seeing as she has lived there for more than 15 years.
"We suspect that someone wants us to leave our houses but we shall not be cowed by such acts."
Gilgil sub-county commissioner Ndambuki Mutheki confirmed the incident, adding that this could be linked to land disputes in the estate.
"Currently the county government is in the process of demarcating the land and issuing title deeds and this could have triggered the action," he said.
Meanwhile, along the same highway, a man died on the spot after he rammed into a lorry near Kigio farm, 10km from Gilgil town.
The two vehicles were heading to Nakuru from Naivasha at around midnight when the man hit the lorry.
According to a police source, the deceased who was alone did not have any identification documents while the occupants of the lorry escaped unhurt.
The wreckage was towed to Gilgil police station.