Meet the blind teacher with 11 children and yearning for more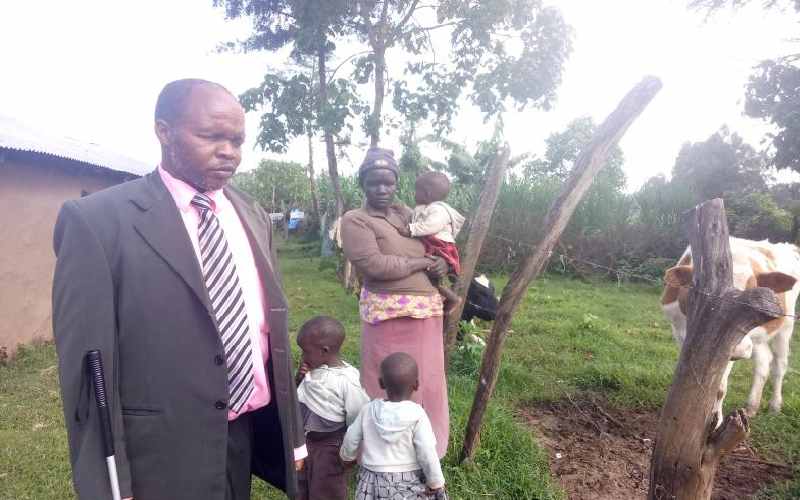 At 49, Moses Mandangura (pictured) knows the thrills and pains of fatherhood.
A father of 11, his unassuming smile belies the hurdles he surmounts everyday to be a good father to his seven sons and four daughters, and husband to his wife, Pauline.
Mandangura is blind, but he says this has made him a better father. One who, working shoulder to shoulder with his wife, has earned the admiration of many in Murkwijit village, West Pokot County.
Being blind and having 11 children, he says, inspires him to be a better father, never mind that he does not know how his children look.
Fathers' Day
When The Standard visited his home yesterday as the world marked Father's Day, we found Mandangura inspecting his farm, touching crops and livestock to know how well they are growing, a number of his children playfully tagging along.
He teaches Kiswahili and social studies at St Francis School for the Blind in Kapenguria, but as schools are closed due to Covid-19 pandemic, Mandangura is busy with other responsibilities - being a farmer and a father.
It is a close knit family, and Mandangura is welcoming and affable.
"I am the first born in a family of six and the only blind one. My parents took me to St Francis School for the Blind in Kapenguria where I learnt how to use braille. Then I proceeded to Asumbi Teachers College before securing a job in 1996 as a teacher," he says.
He chuckles as he recounts how he met Pauline, his wife of 23 years.
"A colleague at St Francis introduced me to her. At first she hesitated, but I fought on until I won her heart and her hand in marriage in 1997. I paid 11 cows for her dowry and we had a traditional wedding after our parents blessed our union," he recounts.
Madangura's only regret is that he cannot see his 11 children. But he knows all of them by name, through their voices and by touch. He knows exactly when each of them was born and how far they have grown.
The couple's firstborn is 19 and is set to join university when institutions reopen, while their last born is two.
"I desire to see my children but it is impossible in my state. However, I can identify all of them by their voices and by touching them. I enjoy hearing and feeling them grow," he says.
Like any other parent, Madangura has become an expert at interpreting each child's laughter, cry, gurgle, and babble.
"When I hold my children, I read their moods through their body language. Like right now I can sense my two-year-old girl is not happy," he says, calling Cheptumwo to draw closer to him during the interview.
The choice to have 11 children, he says, was his.
"People wonder why I chose to have 11 children, and I answer: Why not? Whether by birth, adoption or foster care, children seldom drop into our lives unannounced. I am able to take care of all my children because God has given me the ability to give birth but not to see. There is a difference between a perfect family and a wonderful family," he says.
The couple have brought up the 11 children without having to hire a house-help. Every time his wife fell ill or went to maternity, Madangura would take charge.
"I can sweep, wash clothes and cook, but I cannot chop vegetables. Whenever my wife gave birth, I went to the market to buy her food. I do most of the shopping because I pass by Makutano town from Monday to Friday," he says.
He knows every corner of his home, his farm and the remote village whose rough terrain he has mastered enough to navigate his way past the gulleys and hills to reach the main road on his way to the town centre.
Free time
When he is not working or inspecting his farm, you will find him reading or listening to music.
"On Saturdays I herd my cows and on Sundays I go to church," he says.
Beside not being able to see the family he heads, Madangura's only other regret is that he cannot drive. If he could, he would take the entire family on a road trip.
"If I could see, I would buy a car and drive myself," he says.
His last word? That being blind, or indeed, having any other disability should not be an excuse for not being a responsible father and husband, and running a happy family.
Besides, he says, family is the strongest, most dependable pillar for any person living with disability.
"My relatives were delighted when we had our first child. For all parents-to-be, the support and encouragement of loved ones is invaluable," he says.
Pauline says she has a lot of respect for her husband and others like him.
"Many blind parents have raised happy, healthy children who have grown into responsible, productive adults," she says.