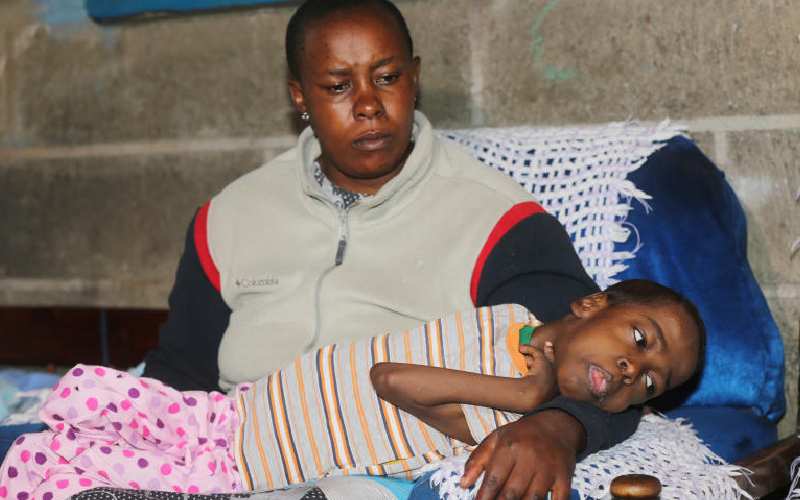 Denis Ngige was only six months old when he was diagnosed with cerebral palsy. Almost two decades later, Ngige has to deal with even a worse threat to his life.
Medics warn that his weak immune system and chronic respiratory disease leaves him very vulnerable to the Covid-19.
Centres for Disease Control and Prevention (CDC), reports that those with cerebral palsy, a chronic neurological condition, risk not only contracting Covid-19 but developing severe cases.
Brain damage
The disorder was not kind to Ngige -- he suffered brain damage, became paralysed, mute, lost weight, with a diminished body structure.
Read More
Ngige can be confused for a three-year-old baby - and his mother Jane Kanyiha has to carry him wherever she goes, as well as feed, bathe and dress him.
A 2012 medical report at Rift Valley Provisional General Hospital showed that Ngige had small body structure, the body functioning was restricted and was also suffering from aphagia, the inability to swallow food.
"The spinal cord is dysfunctional making him unable to sit nor walk. He can only sleep," Kanyiha says.
Unlike other CP patients, National Health Service classifies Ngige, who has CP plus weak immune system and chronic respiratory disease, among those in serious risks of virus infection.
Ms Kanyiha is a worried mother, ever since the first case of Covid-19 was reported in Kenya on March 13.
She had to close her shop to care for her son at home in order to restrict his movements, since she always carried him wherever she went.
She sometimes sees herself as a danger to her son.
"I cannot maintain social distance with my son. I have to feed him, change his diapers and bathe daily," she said.
A perfect hygiene, she maintains, is impossible to maintain for her and her husband, Robert Nderitu to guarantee their son's safety.
"We live among a community of neighbours. Danger surrounds us and in a blink of an eye my son can catch the virus," she said.
However, despite the strict measures she has put in place, Kanyiha points out that should she contract the virus, she will not isolate herself from her son.
"My son may end up like the boy with a similar condition in China, who died after his father was quarantined and there was no one to care for him."
He cannot wear a mask because he has had difficulty in breathing since birth and also has severe postural difficulties that affect his ability to cough well.
Avoid crowds
He is also unable to attend therapies and checkups twice a week as he did before since him and his mother have to stay at home to avoid crowds and contact with people.
Catherine Syokao, Cerebral Palsy Society of Kenya Communication Officer says that they have been forced to suspended therapy, check-ups and treatment.
"Cerebral Palsy patients will suffer setbacks in therapy and treatment. It will be like they never underwent any process and they will have to start from zero," she says.