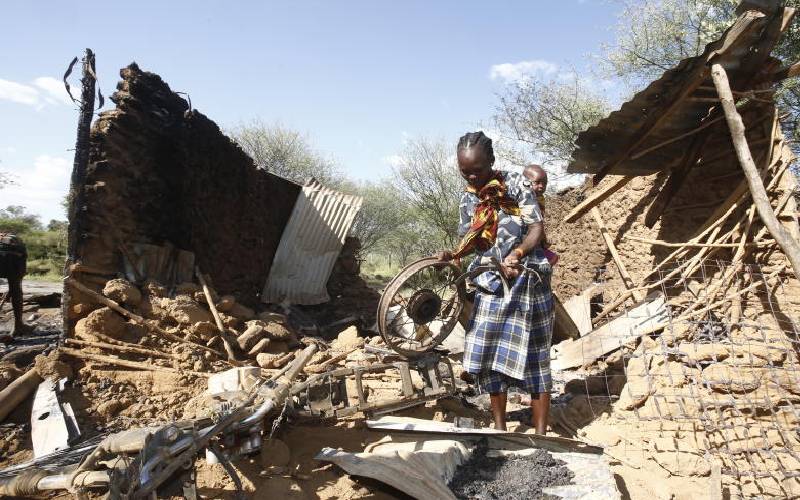 Spent cartridges, smoke billowing from huts and carcasses of donkeys strewn along the road characterise the scene at Riong'o centre in Tiaty, Baringo County.
This is the aftermath of a security operation mounted by a contingent of security personnel in four armoured police carriers detailed to carry out a disarmament operation on cattle rustlers said to have sought refugee in the village.
Recalling the incident that occurred late last week and continued through the weekend, Kama Kamaturu, a resident, said they were not warned that any disarmament would take place.
"We just saw the officers in armoured vehicles arriving at the village, shooting at anything that was moving and torching houses. The guns were aimed at the animals - mostly donkeys left behind in the village to help in transportation of food and water," Kamatura said.
The mother of 10 said she was forced to spend the night in the cold after her hut was torched.
Read More
Kamatura questioned why the Government is allowing the officers to commit heinous acts in the name of disarmament.
"Where did we go wrong? We blame the Government for bringing destruction yet we had moved on with life," she said.
Hosea Kipukat said the officers failed in leaving out elders and locals in the disarmament plan.
"As locals we are willing to cooperate with the Government. Names of criminals have since been forwarded to the officers," Kipukat said.
John Ngurareng, a shopkeeper at Riong'o centre, said the officers looted his shop and made away with goods worth Sh1.2 million and Sh320,000 in cash.
Isaiah Kamama, another shop owner, said the officers drove past the centre on Thursday, shooting an 11-year-boy, who is now nursing injuries.
"We thought they were on their usual patrol, but when they reached here, they started shooting and vandalising shops," said Kamama.
Baringo County Commissioner Henry Wafula said the operation is meant to recover illegal firearms used in cattle rustling.
Wafula said the operation launched three weeks ago brings together elected leaders, local administrators and elders who spearhead peace talks.
"Elders have been helping us to speak to people who own illegal guns to surrender," he said.
He said at least 25 illegal firearms have been voluntarily returned to the authorities since March, including 13 that were surrendered in the last three weeks.
"We are urging residents to return the guns, and if they fail, we shall go pick them forcefully because we cannot allow people to continue terrorising others and indulging in banditry," said Wafula.
Baringo County Police Commander Robinson Ndiwa in an earlier update, said four suspects had been arrested.