State denies deaths as six are injured in tribal clashes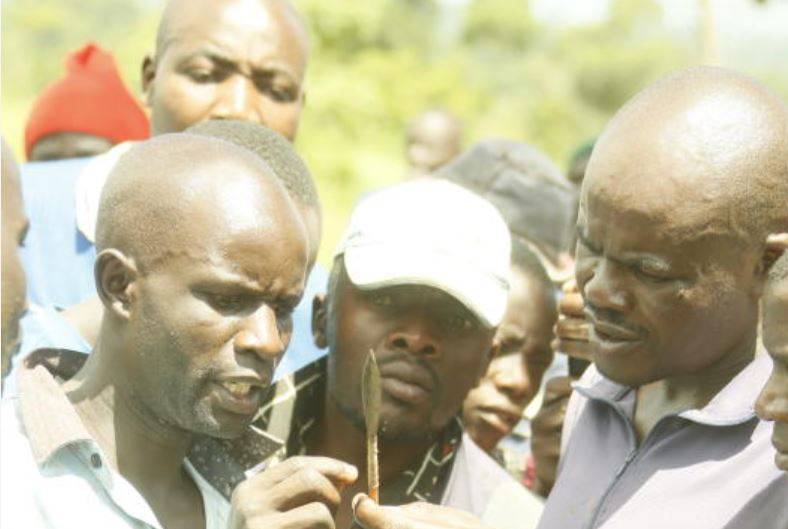 At least two people are reported to have been killed and scores injured in tribal clashes between two communities on the Kakamega-Nandi border.
Tension started building on Friday afternoon over a boundary dispute between the communities, according to residents of East Kabras Ward in Kakamega North.
Simon Wakhungu, 71, claimed attackers from neighbouring Nandi invaded his farm at Musimo village, destroying his maize crop before they vandalised a church and primary school on the farm.
"It was not the first time they had launched the attacks; it is a problem we have been experiencing since last year," Wakhungu told journalists.
Genuine owner
He said he was the genuine owner of the disputed land "but these people want to grab it from me. I donated a section of the parcel to Musimo PAG Church and the primary school you see up there."
Kakamega North Sub-County Police Commander Peter Mwanzo said they were not aware of any deaths but confirmed that six people who were injured on Friday were taken to Malava Sub-county hospital, where some were treated and discharged.
Mwanzo said a group of youth from Nandi, armed with arrows and machetes, drove a herd of cattle into the disputed land, provoking the counterparts from Kakamega side.
"The two groups clashed, leaving at least six with injuries before the police arrived and intervened," Mwanzo told The Sunday Standard.
He said officers had been deployed locally to help restore order following tension that has seen some families desert their homes fearing for their lives.
Kakamega County Commissioner Pauline Dola and her Nandi counterpart Kutswa Olaka held a lengthy security meeting at Ikoli Primary School, with a view of finding a solution to the problem.
Additional 200 police officers were deployed at the border area yesterday as the security teams held the meeting for the better part of Saturday.
A crowd that had gathered at Ikoli market demanded that police go to Nandi and return with four men who were allegedly attacked and injured while returning home from selling pots across the border.
"My brother Maurice Sitailo has been admitted to Kabuyeti Hospital in Nandi after he was attacked at Kakuweti, where he was rushed by police from Kurukung' police post on Friday. We have three other people from this village who were hurt," said Mukonyole Sitailo.
Mr Sitailo said his brother called him around 4.00pm on Friday to inform him about the attack. "We are unable to go there because of the hostility arising from the clashes.
Moses Mwani, who sustained a panga cut on his face, said: "I fell down and was rushed to Malava Hospital, where I was treated and discharged. Many others also suffered injuries like mine," he said.