Death toll climbs to six as fighting worsens in Narok South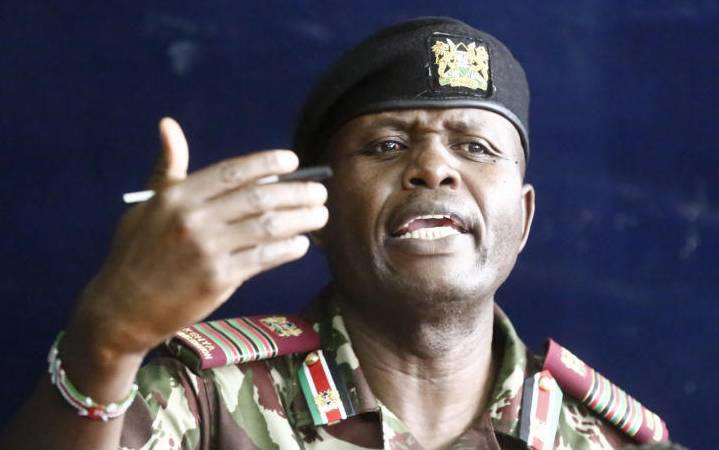 Ethnic skirmishes in Narok are spiralling out of control with at least three more people confirmed dead after being shot with arrows.
This brings the death toll to six since the clashes erupted last Saturday.
Authorities in Rift Valley region said 13 others are admitted in Narok Level 5 Hospital with injuries.
Regional Commissioner George Natembeya (above) addressed a press conference in Nakuru where he said at least 20 houses were burnt during the violence that broke out last Saturday.
The security forces have dismissed claims that the violence was triggered by a livestock theft incident.
Mr Natembeya and the local County Commissioner Samuel Kimiti has outlined measures that include banning politicians from visiting the affected areas, providing additional administrative unit and setting up of a police post at war-tone Ololoipang'i and Olooruasi areas.
The Regional boss said that politicians have been fostering the tribal clashes between the Kalenjin and Maasai communities.
"Some of the politicians have been using Narok grounds to incite communities in the name of giving donations, we will not allow that," he said.
He said that since the clashes started last Saturday, six people have died with the latest victim having been shot to death yesterday evening.
"The perpetrators have dangerous weapons including guns, arrows and spears," he said. 13 people have been injured in the attack within Narok South and Narok North and several homes torched.
"We have 13 people with arrow injuries admitted at Narok Referral hospital and Olenguruone," he said.
The commissioner said that the claims that the clashes started as a result of cattle thefts are mere allegations.
"We have established that only one cow was stolen and it was a family issue that didn't involve tribal communities."
Police have since been deployed to Olposemoru to cool down the tension.
Natembeya called for the community to coexist since there is no escaping each other.
"The communities are neighbours and must co-exist," he said.
More to follow