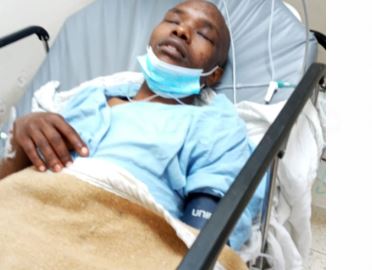 A clinical officer is currently fighting for his life at Tenwek Mission hospital after he was shot by a policeman during curfew hours.
The circumstances of the incident that occurred on Wednesday night during the curfew imposed by the government to curb the spread of Covid-19 are still not clear.
While the officer attached to Cheborgei Police Station claimed Hillary Kirui, 31, (pictured) was roaming the area aimlessly during curfew hours, his family said their son was an essential service provider who was returning home from his place of work.
"Kirui was from his work station in the neighbouring Bomet County past 7pm when the officer shot him. He wasn't violating the curfew rule," said Sharon Cheptoo, Kirui's sister.
The bullet hit the medic on the back of his right leg and exited on the front leaving a gushing wound.
Ms. Cheptoo said they rushed to the scene only to find Kirui writhing in pain. "We immediately rushed to the scene and found my brother lying on the ground in pain. We rushed him to Litein Mission hospital before he was transferred to Tenwek Mission hospital," she said.
Kirui works at Tenwek hospital and had just alighted from a vehicle.
Bureti officer Commanding Police Division (OCPD) Felicien Tengeye said the medic was hit by a "stray bullet."
Mr Tengeye said the officers attempted to disperse a rowdy group of youth at Cheborgei center who were defying police orders to go home after crossing curfew time. "The officers were enforcing the curfew orders by patrolling the shopping center when they came across rowdy youth who began hurling stones at them," said Tengeye.
The OCPD added that one of the officers tried to disperse crowd by shooting in the air but a stray bullet hit Kirui on the thigh of his right leg. "The officer was also injured on his left leg after he was hit by a stone hurled by the youth," he added.
Tenwek Hospital Clinical Officers Union treasurer Vincent Kirui demanded the immediate arrest of the officer involved in the shooting.
"Clinical officers are part of essential services providers who the police should be protecting not attacking while the medics are on their way to work or returning home within curfew hours," he said.