Ledama and Ng'eno: Clashing leaders cut from the same cloth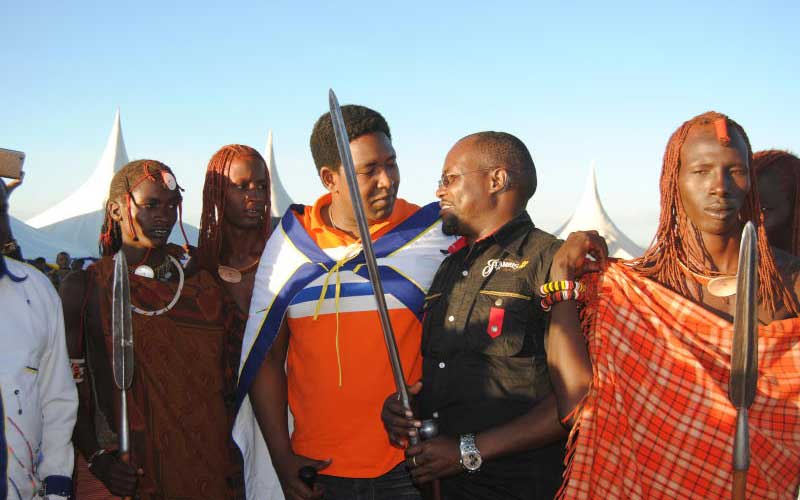 Narok Senator Ledama ole Kina and Emurua Dikirr MP Johana Ng'eno are no strangers to high-octane politics.
As witnessed last week, the two rarely mind having it their way when it suits their conviction. In their mid-40s, the duo claim to be championing for the rights of their respective communities.
During the Building Bridges Initiative (BBI) rally in Narok, Ledama caused a political storm with his sentiments about land ownership in Narok and Kajiado counties, which he said was skewed in favour of "outsiders."
Last Monday, Ng'eno was arrested at Kimogoro trading centre in his constituency for allegedly holding what the police described as an illegal BBI meeting. Just like Ledama, Ng'eno feels his Kipsigis community is being overlooked in Narok County leadership.
A day before the Narok BBI meeting, Ng'eno led other Kipsigis leaders in a walk out from a Narok County leaders consultative meeting that was presided over by former Prime Minister Raila Odinga.
Ng'eno and Narok deputy governor Evalyn Aruasa cited ethnic profiling, saying non-Maasai leaders had been sidelined in the BBI discussions.
But are the two leaders human rights activists or just rabble-rousers?
"They have a lot in common," said Philip Chebunet, a political analyst. "They are cut from the same cloth, you could say," he said.
Dr Chebunet regards both men as opportunists. "They are not genuine in their fights for the rights of their people. They are capitalising on issues affecting their communities."
Ledama has been a subject of investigations by the National Cohesion and Integration Commission (NCIC) for making utterances bordering on ethnic profiling. In 2018, the state agency cautioned the Senator over remarks he made against a community residing in Narok.
He campaigned for the removal of settlers in the Mau forest complex to the chagrin of a section of Rift Valley leaders who saw his campaign as aimed at members of their community who bought land from group ranches in Narok County.
After his brief arrest and subsequent release on Tuesday last week, Ledama said his campaign for conservation of Mau forest had paid off.
Hate speech
"When I stood and looked at Kenya and said enough, we must protect Mau forest, everyone called me a warlord. In the end, everyone agreed with me and we saved Mau forest. Now when I speak about Maasai land and land use policy, some call me a tribalist. We will triumph," Ledama wrote on Twitter moments after his release.
A section of politicians now accuse him of fueling hate against other communities living in Maa-speaking counties after the senator claimed non-Maasai communities residing in Narok and Kajiado counties must not seek political seats and if they own any parcel of land, must allow the Maasai to use the land freely for grazing.
Some say his brand of politics can only be compared to that of the late William ole Ntimama, a long time Narok North MP and Cabinet minister. Others say he is yet to master the art of politics.
Like Ntimama, he is abrasive and not a fence sitter when it comes to issues affecting the community," said Jackson Saika, national chairman of Maasai Professionals Association.
But those against Ladema's style of leadership describe him as a dangerous politician who needs to be stopped.
Ng'eno gained prominence in the run up to the 2017 elections when he joined former Bomet Governor Isaac Ruto to chart a different political path away from Deputy President William Ruto.
The gamble paid off and remained vocal against DP Ruto, even at the expense of his political future. In 2017, Ng'eno defied the odds and won the Emurua Dikirr seat on a Kanu ticket.
He buried the hatchet with the DP a month after the polls. His stand on the Mau forest evictions where several houses were torched by authorities in the process of removing families from the water tower, saw him cited for incitement by the NCIC.
[Additional reporting by Robert Kiplagat]