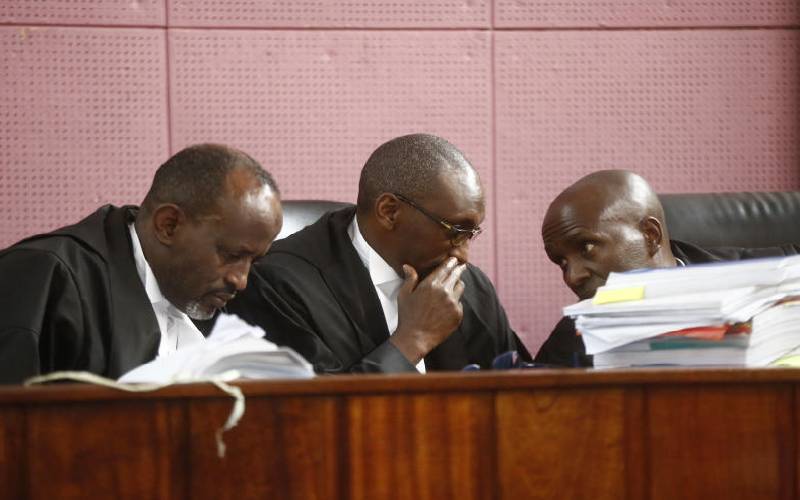 The 1,597.5 hectares occupied by more than 123 families in Narok South was never part of the Maasai Mau Forest, a court heard yesterday. John Kimetto, the third person to take the witness stand in the ongoing case between the settlers and the State, told the three-judge bench that the government erred in forcing them to leave their homes. Mr Kimetto, 80, the secretary of the Enkarooni Group ranch, told Justices Sila Munyao, Mohammad Kullow and Ongondo George that their residences were never part of a water catchment area as alleged by the State. "The source of the rivers, which the government claimed were destroyed, is Enapuyapi swamp in Nakuru County within the 46,000ha Mau Forest complex," he said as he defended the allocations of land to his members.
SEE ALSO: Politicians fanning clashes, says NCIC
He, however, revealed to the court that the occupied land increased from 1,597.5ha to 5,582.6ha after people who were not members of the group ranch relocated there and encroached on forestland. "Some of our members called relatives to join them in the area where we had settled and in the process they shared land. Some encroached on government forest," Kimetto, who had lived on the ranch since his birth in the 194Os, testified. The witness said initially the group ranch had around 123 members, but later the number increased to more than 700. The court allowed that minutes of a meeting dated July 16, 1996 be submitted in court as evidence in the case. The minutes indicated that members of the group ranch would get equal share of land and even those that had initially sold their shares would benefit. Kimetto added that at no time did the government raise an issue about the authenticity of the title deeds issued to members.
Genuine members
SEE ALSO: How Sh 20,000 "golden cow" has killed 8 people
"There was not even a Gazette Notice canceling title deeds issued to members," he said, insisting that none of the genuine members of the group had encroached on State land. Christopher Bore, another witness, told the court he acquired land from members of Sisan group ranch and was issued with a title deed in 2000. Mr Bore said the land was never a forest nor had the State gazetted it as such. "Occupants of the land followed all the legal processes to acquire the land... and government officials were involved in the demarcation of the land. Government should respect our title deed," he said. Joseph Rotich, another witness, said the eviction was inhumane and violated their rights. Rotich said he was allocated 60 acres, being a member of the Kipsetim land buying company. "We were forced to leave our homes at gunpoint and not voluntarily," said Rotich, adding the Attorney General picked titles to be cancelled randomly and never followed a given procedure.