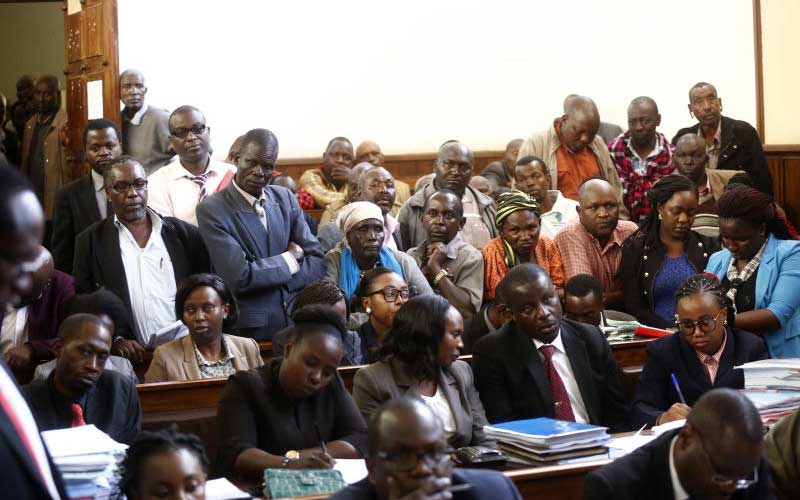 The hearing of a case challenging the eviction of more than 500 people from Mau Forest starts today. The case, filed two years ago, will be heard for four consecutive days by a three-judge bench constituted by Chief Justice David Maraga. Judges Sila Munyao, Mohammad Kullow and Ongondo George will also hear a preliminary objection filed by the Cabinet Secretary for the Ministry of Lands and Physical Planning seeking cancellation of title deeds held by the eviction victims. The three judges have been holding sittings at the Nakuru Environment and Lands Court.
SEE ALSO: Deliberate planning should save our water towers, livelihoods
Joseph Kimetto and 598 others moved to court during the first phase of the evictions in 2018, seeking orders to stop their eviction. They said the Government did not issue them with an eviction notice, and that they had no alternative homes and had school-going children, some who were preparing for national examinations. The locals said their title deeds were products of comprehensive processes that involved various public institutions, including survey department, land officers, the defunct Narok County Council and director of land adjudication and settlement. In a cross petition filed at a Nakuru lands court in June 2019, the Principal Secretary in the Ministry of Lands and Physical Planning Nicholas Muraguri claimed the 599 title deeds, which are part of five local group ranches, were obtained in violation of the law. The PS said the title deeds were part of the Maasai Mau Forest and should be returned. He asked the judges to ignore a petition by Mau evictees challenging their eviction.
SEE ALSO: Multi-agency team to re-mark Mau borders
"It is important that the honourable court be pleased to issue an order that land title numbers set out below, which are subdivisions of Reiyo, Enakishomi, Sisiyian, Enoosokon and Nkaroni group ranches, were obtained illegally, unlawfully and without following procedure and in blatant violation of law," Dr Muraguri said. He said encroachment of the Mau occurred when group ranches subdivided their parcels of land beyond the registered boundaries. The PS wants the 599 people listed in his cross-petition compelled to vacate the land. More than 3,300 people left the land and trees were planted on the over 17,000 hectares recovered.