Bandits strike hours after security meeting, shoot two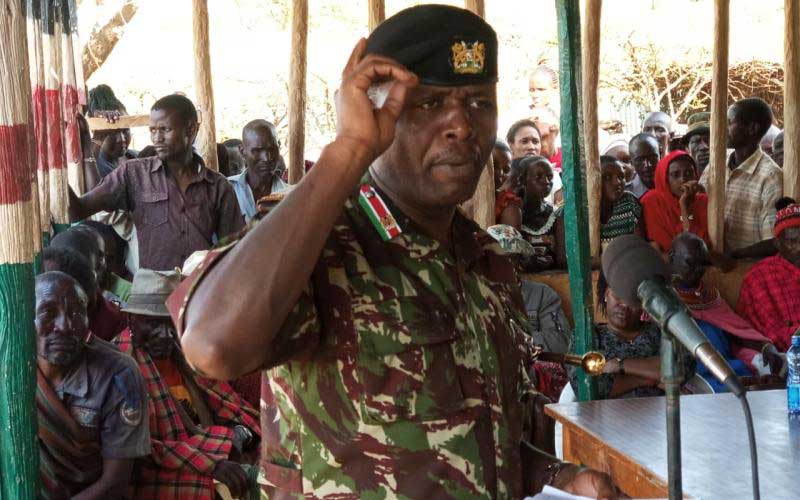 Two people are nursing gunshot wounds following fresh bandit attack after a security meeting in Baragoi.
The incident happened on Wednesday at around 8.40pm, when bandits ambushed a private vehicle, along Learata-Wamba road.
Area police commander Samson Ogelo said the injured were a 26-year-old man and a 38-year-old woman while two others escaped unhurt.
The two who sustained gunshot wounds on the lower foot and left shoulder were admitted to Wamba Mission Hospital.
Officials at the security meeting announced plans for forceful disarmament.
Rift Valley Regional Commissioner George Natembeya, who chaired the meeting accused locals of being reluctant to surrender illegal firearms in their possession.
He assured residents that the disarmament would be carried out with a human face.
"Illegal firearm holders have failed to obey directive to voluntarily return them, this is why we are going for them," Mr Natembeya said.
The administrator warned bandits of stern action.
"If you kill by the bullet, be prepared to die by the bullet," Natembeya said. He directed local administrators to work closely with security officers and leaders to fight banditry in their respective locations.
"If guns will roar from a certain chief's location, and stolen livestock are hidden there it means there will be no government representation in that location and we will come for answers from the chief," the Regional Commissioner said.
Among leaders who attended the meeting were Samburu North MP Alois Lentoimaga, Women Representative Maison Leshoomo and an MCA.
Ms Leshoomo vowed to support fight against banditry saying it affects education and development activities.
Lentoimaga noted that many people have lost their lives while others have been displaced because of cattle rustling and revenge attacks.
"It is worrying that bandits are targeting innocent locals," said the MP.