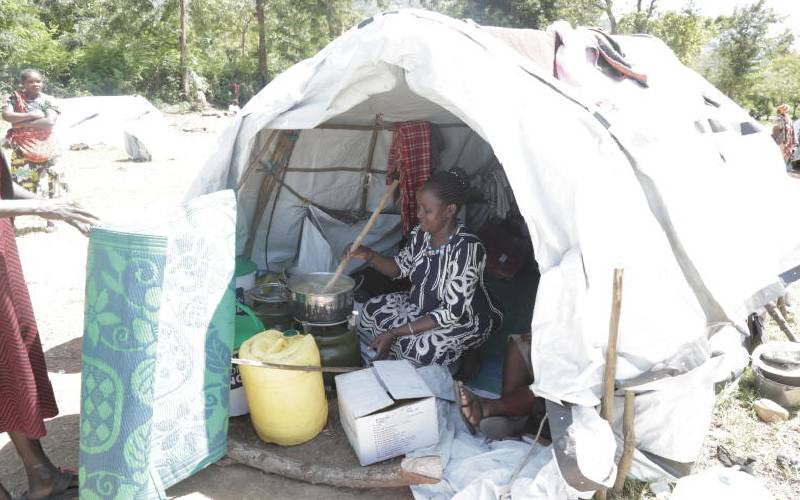 The whistling waters cascading down the whitewashed stones feels like gentle whispers from a thousand waterfalls. Ideally, the breathtaking valley below should evoke feelings of serenity and inner peace.
In other times, it could be a suitable location for filmmakers keen to depict a heaven-like hamlet where every village had its own river, waterfall or stream, whose waters coursed down the valleys all year round.
But on the fateful day in November the waters sounded like thundering canons, out to torment the ears of Josephine Kapei, 35.
Three weeks before the incident, Josephine, told us she was happily living in her two roomed hut, surrounded by picturesque cliffs.
She had solid plans for Christmas and life after the festivities, even as she prepared to deliver her ninth baby.
Read More
Her motorcycle roared around Wei Wei in West Pokot, ferrying cereals her agents had bought and delivering them to her shop for retail.
But that was then. Now as she struggled to crawl into her makeshift tent at Parua Primary School, she was forlorn. She muttered under breath as she submitted to bowels of her tent where damp stiffing air awaited her.
All her earthly belongings are crammed in a corner to make room for her new baby.
"I do not know what I did to deserve this. This is the worst nightmare of my life. I am ruined and the New Year offers little hope for me. If only the government was caring…" Josephine says as her voice fades off.
She adds that she will never forget the fateful night of November when she ventured out of her home to go and assist a neighbour who had organised a fundraiser for his children's education.
Just when she was preparing to return home at around 7pm, the heavens opened, unleashing torrential rainfall that lasted for hours.
Had been cut off
Seven hours later when Josephine, stepped out she saw the havoc Mother Nature had caused.
"When I reached home, there was a huge chasm. There was a new valley where my house used to be. In fact, all my land had been cut off, as if by a giant knife and carried away, leaving a deep valley with rocks at the bottom," she says.
Her loss was bigger than just land because seven of her eight children had been buried in mud.
"I had eight children but only one, the eldest son, Hosea Korpus survived. By the time rescuers dug through the mud, all my seven children were dead."
The ache is evident as Josephine's bosom heaves, hands fly to her cheeks before finally resting on her chin. Tears roll down her cheeks and fall on her feet.
The effort of recalling the names of her children is too much to bear. Listeners turn their faces away.
The burden of reliving her pain is passed on to her sister-in-law, Selina Kolpin, who gently holds the mourning Josephine's right hand. She makes her sit on a plastic container outside the tent.
"Josephine and my brother William Yaramanyeng who is her husband have been through hell. After the disaster, we got only three bodies of her children. These are the remains which were buried on November 20," Ms Kolpin explains
She then stoically reels off the names of her eldest brother's kids like a roll call. "William's children who were killed by the landslide are Joan Chebet, 18, Chepkasin (15), Chepkura (11), Kapengat (8), Chepkiach (6), Micah Poghon (4) and Caleb Ksang who was two years old."
She adds: "To date we have never found the remains of Chebet, Chepkasin, Micah and Caleb. At first we hoped and prayed that they had survived but more than a month later, all hope is gone," Kolpin says.
This was not the only tragedy to hit the family. "My younger brother, Jackson Yamayareng also lost a son, Jacob Plimo who was 12 years old. His body too was never found. We are still in mourning."
Although the government has been adamant that the bodies of all the victims were recovered, some of grieving families at Paroo Primary School indicate otherwise.
"The government should stop burying its head in the sand. Besides my two brothers, other neighbours are suffering because their children have not been accounted for. They were sleeping in the houses on the night disaster struck," Kolpin, who has become the unofficial spokesperson told us.
Their statistics indicate that Loshanyang Nariw lost his 17-year-old daughter, Cynthia While another neighbout, Losili also lost his 17-year-old child, Kasasur LOsili.
At the same time, William Domokira is yet to recover the bodies of his two children, Valerine Chepkoech, aged 6 and Enos Powon (4).
In the same evacuation camp, another survivor, Cheprokwo Kapeli has been desperately scouring through what once used to be his home in search of the bodies of his children Cherutou Ywalasis (17), Dorothy Ritakwang (7) and Faith Lomwai (3).
Rescue operation
Josephine summed up her suffering: "It has not been easy coping with the disaster I am still hoping that the bodies of the other four children will be recovered. I do not know whether this will ever happen because the rescue has long ceased."
On November 4, when all the victims of the West Pokot landslides were to be buried, she pleaded with her brother in law to allow her bury the four children in a mass grave.
Statistics from Wei Wei indicate that the 22 people from the area lost their lives and 8 bodies have never been recovered. There were other victims from different areas in the mountainous part of Ortum.
The outrage and helplessness of the survivors and their relatives were aptly captured by the County Executive Member of Health in West Pokot, Geoffrey Lipale.
"We lost a total of 28 people during the landslides. It is shocking that the bodies were never been recovered during the search and rescue operation which took four days.
"I spoke to a survivor who took me where his home once stood. He believed that if he was assisted, he could still find the bodies of his wife and three children," Lipale explains.
And to avoid similar disasters in future, the CEC proposes that the national government maps all the homes which are precariously hanging on cliffs in West Pokot, buys the land and resettles their owners on safe areas. []