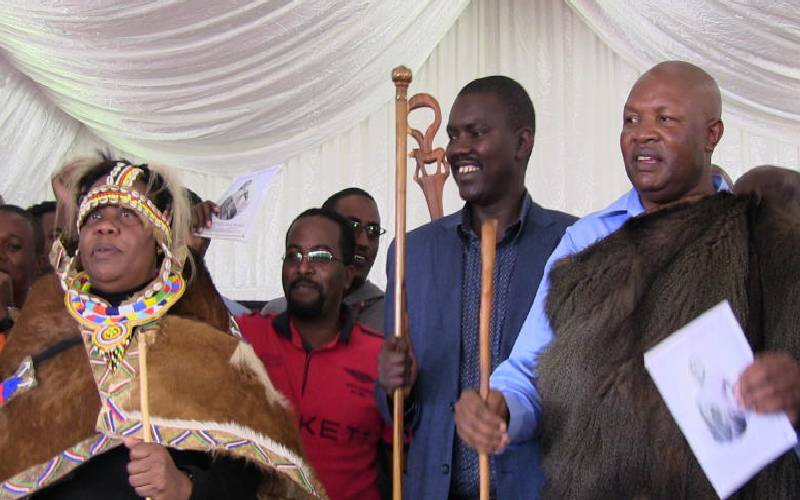 Hundreds of members of the Talai clan yesterday congregated at Momoniat Village in Kipkelion East Constituency for the reburial ceremony of one of their freedom fighters, Kipng'etich arap Boisio.
Boisio was killed by the colonial government and had been buried in Moyale, Marsabit County.
According to clan historian and researcher Peter Chemaswet, Boisio was the younger brother of the legendary Koitalel arap Samoei.
"Their father, Kipnyole arap Turgat, was locked in a protracted 11-year war with the British government leading to his death in 1905. Thereafter, Turgat's sons decided to continue the resistance, thus forcing the British to banish them from Kalenjin land," said Rev Chemaswet.
Detention letters
He said the British tricked Turgat's sons into going to Londiani railway station in 1924 where they served them with detention letters.
"Kipchomber arap Koilegen was deported to Fort Hall, now Murang'a; Kibuigut arap Sing'oei to Maua in Meru, and Boisio to Nyeri," said Chemaswet.
The researcher added that Boisio took his entrepreneurial spirit to Nyeri and managed to buy a pick-up truck in 1916. He later bought a house in Pumwani area in Nairobi.
"Through business, he became influential in Kikuyuland and was instrumental in bringing together freedom fighters such as Harry Thuku to form the Kikuyu Central Association, and connected them to their Kipsigis freedom fighter counterparts."
According to Chemaswet, the British were so alarmed by Boisio's growing political influence that they decided to move him to a prison in Moyale.
"To the colonialists' shock, Boisio used his mystical powers to get out of the cells four times. On one occasion, he sneaked out and the British caught up with him in Ethiopia and decided to kill him," the historian said.
Chemaswet said the colonialists murdered Boisio in 1929, splitting his head into two.
"His remains were buried in an area located near the old Moyale airstrip."
But 90 years later, Chemaswet said members of the Talai clan decided to exhume Boisio's remains and give them a proper burial.
"Arap Boisio and his exiled bothers had expressed wishes than when they died, they would like to be laid to rest in their forefathers' land. That is why after many years, we finally located his grave in Moyale in September."
The traditional burial ceremony was held at dawn on the land of Boisio's grandson, David Langat.
"The remains were first covered in goat skins and then wrapped in lion skin before being buried in a freshly dug grave. The ceremony was concluded with a traditional prayer," said Chemaswet.
Decent burial
Mr Langat said the reburial of his grandfather was the closure they had always yearned for.
"We are happy that we have finally managed to give our grandfather a decent burial befitting his status. We are glad that we have finally granted his wishes today."
Governors Paul Chepkwony (Kericho), Jackson Mandago (Uasin Gishu) and Kericho Deputy Governor Susan Kikwai were among the politicians who attended the ceremony.
"My administration will not relent until the British government compensates members of the Talai clan for the historical injustices committed against them during colonial rule," said Mr Chepkwony.
The Nandi County government is seeking a landmark settlement of Sh2 trillion from the British.