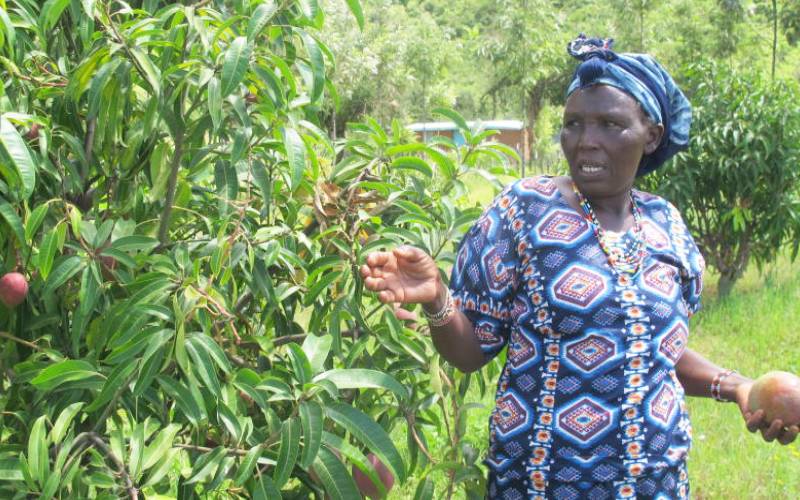 The winding rocky road leads to a plain overlooking two hills on the floor of Rift Valley in Rongai Constituency, Nakuru County.
Green vegetation deceives due to the rainy season; Lower Solai experiences prolonged drought annually, leaving it dry and dusty with neither water nor pasture.
Most locals here are pastoralists but when the rains come, some plant crops such as maize, which rarely do well.
In Chemasis village not far from Lake Solai, Soti Cherono has mango trees and a grass farm for her livestock. In a few months all this grass will be harvested but when drought strikes, the lush covered hills will be bare rock punctuated by shrubs.
Read More
Two weeks ago, she started harvesting mangoes for the second time since she planted them five years ago. Last year, she harvested mangoes worth Sh9,000 but she expects to earn more from them this year due to an assured source of water. Last year was a bad one. The solar-powered borehole was rendered useless after the water pump failed but could not be replaced as this was expensive for the locals.
"My harvest would have been higher if we did not have the disruption of the water supply for nine months," says Cherono, who has so far harvested more than two bags of mangoes and expects more.
She gets water at least twice every week through the pipes supplying the village and has her own water meter. When the pump failed coupled with the long drought, Cherono lost 46 of her mango trees from the 200 that she had planted. Some 1,500 other locals in 72 households were equally disenfranchised.
They had to resume the long journeys for water, only this time the several water kiosks relatively cut the distance – for some.
Back in 2005, a number of water projects were conceived in Solai. Wema Water Project is one of the projects that was started by World Vision Kenya in its push towards ensuring access to safe, clean drinking water for the locals of Solai.
Before these projects, Cherono would leave her home early in the morning to walk five kilometres to fetch water in the nearest water pan. If the pan dried up, then she had to endure more than ten kilometres of trekking to the river for water.
"Searching for water was a full-time job and when this project came, we were glad we would get water and we have seen it grow and evolve," she narrates.
During the same period that the pump broke, Ngendaptich Primary School, which has 223 pupils and 13 teachers, experienced challenges. Christine Changwony, the deputy head teacher says that sanitation was hugely compromised and a lot of time would be wasted searching for water.
"Pupils had to carry water from home and we would not be sure of the safety of the water. When we needed water from the lake, pupils had to be accompanied by a teacher for safety purposes. Even our school feeding programme was affected," she says.
The nearby Ngendaptich Dispensary was not spared either as Mark Sambu, the nursing officer in charge says that diarrhoea was a common problem that the facility would handle.
In the area, World Vision has done 37 water projects. Between 2016 and this year, the organisation has spent Sh216 million. The biggest of these are four complete water projects supplying homes with piped water.
Sustainability of the projects, however, remains a big challenge, which calls for innovation. Joseph Ongori, the chair of the Wema Water Users Association (WUA) in Solai, says that locals depend on the projects until a breakage occurs and everything dies.
"When the water supply content is disrupted, the lives of several people are disrupted mainly because of the inability to maintain the projects due to lack of funds," Ongori says.
However, residents of Wema seem to have found a solution for this thanks to innovation. As a way forward, which is a first in Kenya, Solai residents have decided to insure the water projects for sustainability," says Ongori.
For the four complete and functional water projects — Chepkulu, Tuiyotich, Marana and Mbogo-ini — are now covered by Britam Insurance Company. According to the company's General Manager Daniel Mugao, this is a new innovative product that it seeks to expand in different water projects across the country.
He says the policy covers risk associated with every single water project.
"Immediately a breakage is reported, we'll send in an engineer and if it falls within the policy conditions, we shall have it replaced immediately," says Mugao.
Premiums paid annually by the community depends on the size of cost of the project. The premium for the individual projects are: Chepkulu Sh22,625; Tuiyotich Sh22,425, Mbogo-ini Sh19,256 and Marana Sh16,069.
For piped water, each homestead has a meter which is used to determine how much they should pay -- Sh2 for a 20 litre jerry can from a solar-powered borehole and Sh5 for a diesel-powered borehole.
While this amount is not easy to accumulate to repair the pumps, Ongori says it is sufficient to pay the premiums and have some left for other community activities.
James Angawa, the director of programmes at World Vision Kenya, says insurance offers an innovative approach to sustain the water projects.
"Being the first in the country, this approach offers not only water security, but also a business idea for other insurance players who might want to consider it because there are many water projects that fail after the organisations leave," adds Angawa.