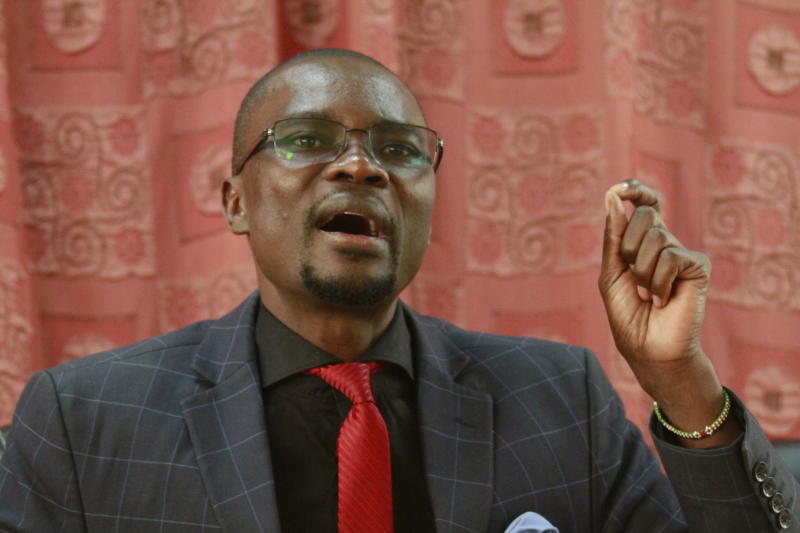 Kimilili MP Didmus Barasa was forced to cut short his speech after he was heckled during the burial of William Makali, son of former Vice President Kijana Wamalwa in Kitale.
Trouble started when Barasa criticised opposition leader Raila Odinga.
The MP allied to Deputy President William Ruto vowed to lead Western leaders in scuttling Raila's ambition of becoming Kenya's fifth president.
Barasa revisited the Kibra incident where ODM supporters roughed him up and snatched his signature maroon cap, blaming Raila on his attack.
"Willy go and tell you father (Michael Wamalwa) that Barasa is going to deal with the man who denied him the chance to rule Kenya. Tell him that I'm going to 'unleash vengeance kicks' on Raila for the humiliation I got in Kibra [during] mini-poll,'' Barasa said amid heckling from mourners.
He angered the crowd more when he asked Raila to accept defeat in 2022 and warned him that he risked being jailed if he caused violence.
Jeers from angry mourners intensified when he asked Saboti MP Caleb Amisi to leave Orange Democratic Movement (ODM) to avoid losing his seat in 2022.
"Mr Amisi, you know that you were lucky to have won the Saboti seat and you know that I am capable of ensuring you lose your seat in 2022 if you don't quit ODM,'' Barasa continued.
Senate Speaker Ken Lusaka and MPs John Waluke and Justus Kizito scoffed at Barasa for disrespecting other leaders.
Lusaka condemned the legislator's insults on Raila and asked him to play mature politics.
''Elected leaders should address other leaders with decorum. Don't use a funeral platform to attack other leaders,'' Lusaka told Barasa.
Kizito faulted Barasa for being used by a senior leader in the government to insult rivals.
"We know you are being used by someone to attack and insult respected leaders in the country and we will not tolerate your behavior,'' he warned.
Waluke described Barasa's political outbursts as provoking and disrespectful.
On his part, Amisi asked Barasa to engage in mature and constructive politics and "stop acting like a political hire."