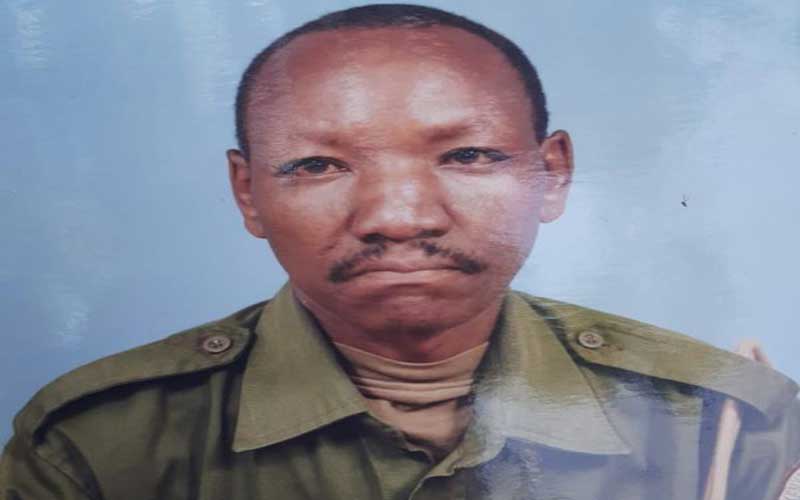 A forest guard was hacked to death by unknown assailants at the Kenya Forest Service (KFS) camp in Saboti. James Orungu (pictured), 59, was allegedly attacked outside his house, which is inside the camp. According to his son Paul Muturi, Orungu was confronted by a group of men who demanded keys to the KFS armoury. After he declined to surrender the keys, the men attacked him with an axe. Mr Muturi said his father was in the company of a friend when the attackers struck on Monday.
SEE ALSO: KFS embarks on improving rangers work environment
"The information we are getting is that my father was with a female friend when he was attacked. He was hit on the head with an axe,'' Muturi said. He added that the female friend fled and reported the attack to neighbours, who rushed Orungu to Saboti Sub-county Hospital where he was pronounced dead. Some family members, however, allege foul play in Orungu's death. Charles Muturi, Orungu's uncle, claimed some of his colleagues could have masterminded the killing. "It does not make sense that the attackers killed him and failed to take any guns, yet it is said they demanded keys to the armoury," said Charles. "They could have vandalised the armoury. We read mischief in this incident. Some of his documents are missing from the house. We cannot trace his ATM cards," he said.
SEE ALSO: Safaricom to offset carbon footprints through partnership with KFS
Charles revealed Orungu owned the axe the attackers used to kill him. The family is now demanding investigations. "We want justice. Police should conduct a proper investigation,'' Charles said. County Police Commander Ayub Ali yesterday interrogated Orungu's female friend.