Bodies believed to be of missing Kayole family members discovered in Laikipia grave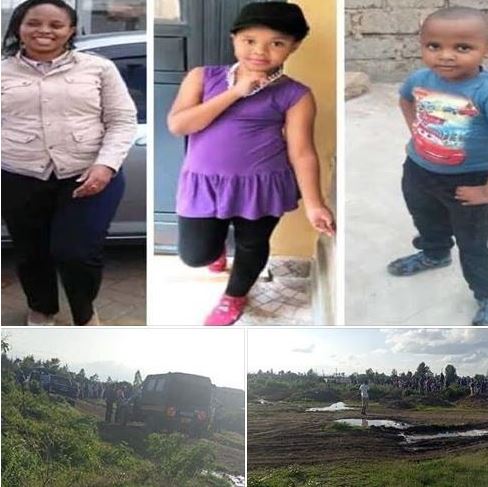 Three bodies of a woman and her two children who disappeared 20 days were today discovered buried at Makaburini in Laikipia County.
The bodies of Joyce Syombua and her two children who went missing on October 25 were found by detectives buried in a shallow grave.
According to police reports, the bodies were found after Syombua's estranged husband, a military officer directed them to the site.
Maj Peter Mugure, who is based at Nanyuki's Laikipia Airbase, was arrested on Friday evening after spending the entire day at Nanyuki Police Station recording statements over the disappearance of his family members.
Mugure's estranged lover Joyce Syombua, 31, and their two children Shanice, 10 and Prince Michael, 5 disappeared three weeks ago when they went to visit him in Nanyuki.
Syombua's mother Maua Malombe and the family have been painstakingly searching for her and the children.
The three left Nairobi's Kayole Estate where they lived on October 25 to visit Mugure following his request.
Mrs Malombe says the relationship between the two had been on and off for the past 13 years that they have been together.
"Peter requested that he needed to spend time with the children after schools closed. He sent Joyce fare and they were excited when they left for Nanyuki," says Mrs Malombe.
Several hours later, Syombua texted her friend Syombua Kateng'u that, "When she came from the bathroom, she did not find Peter and the children. She also told me when she called him, he said he was taking them on a tour of the facility and would be back."
After a few hours, Syombua texted Kateng'u that Mugure was back, but without the children.
"When she asked him the whereabouts of the children, he said he had left them at a friend's house because they needed privacy to iron out their differences," Kateng'u said.
At 7pm, Kateng'u called Syombua who told her the children were yet to return and that Mugure had stepped out. She called her again after some time but her phone was off. That was the last time the family and friends heard from Syombua and her children.
Kateng'u says the same night, she called Mugure – whose number she had been given by Syombua. He informed her that he had escorted Joyce and her children to board a matatu back to Nairobi that night.
But the three did not arrive back to their house in Kayole. Mrs Malombe reported a case of missing relatives at Soweto Police Station that Sunday.
Mugure is still in detention and will be arraigned on Monday.