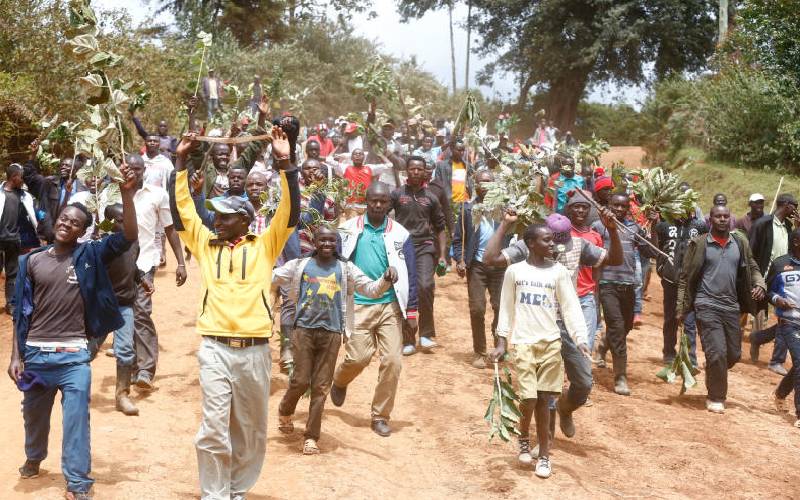 Some of the people evicted from the Maasai Mau Forest yesterday took to the streets to protest police harassment.
The more than 150 people evicted from the Sierra Leone part of the forest in Narok South said police have denied them access to their farms, leaving their crops to rot.
On November 1, during an event to plant trees in the Mau, two State officials told those evicted from the forest they could go back and check on their farms as long as they had a chief's permit.
The two officials were Environment Cabinet Secretary Keriako Tobiko and Rift Valley Regional Commissioner George Natembeya.
John Mutai, a protester who was interviewed yesterday, said even with a chief's permit, police were still harassing those entering the forest.
"Police deployed at the forest entry points have denied us access into the forest. They do not recognise the permits issued by chiefs," Mr Mutai said.
Geoffrey Kiptulwayat, another protester, said last week he attempted to go pick a few of his belongings left in the forest, but the officers blocked him.
He also alleged that police who have mounted roadblocks are demanding a Sh2,000 bribe to allow someone into the forest.
"I was roughed up and asked to pay Sh2,000 to be allowed to go pick my things. I had to comply," Mr Kiptulwayat said.
According to government data, more than 3,300 families left the forest and paved the way for its reclamation. Some families moved to Chapakundi Centre where a camp has been set up to give them temporary shelter as they await resettlement. Narok County Commissioner Samuel Kimiti said he would investigate the police harassment claims.
He said no one should be denied access if he or she has a chief's permit.