Farmers turn to Busaa, magadi as Foot and Mouth kill hundreds of cattle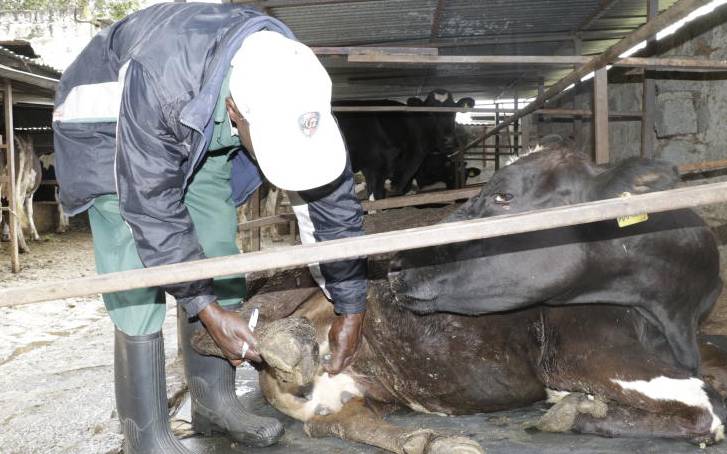 At least 300 cattle have died in Bahati in the last two months following an outbreak of Foot and Mouth Disease (FMD).
Farmers in the area are now using a local brew, busaa, and soda ash to treat the animals that have been affected by the disease.
The disease has swept through several villages in Nakuru County, even as veterinary officers reveal there is a shortage of the vaccine that was to be administered to the cattle for free through the livestock and fisheries department.
John Kinyua has lost six animals to FMD in the last two weeks.
"We have 40 adult cows on the farm, and more than half of them are recovering from the disease. Four adult cows and two calves have died since the attack," he said.
Vaccine shortage
The disease has not spared area MP Kimani Ngunjiri, who has lost eight cattle, with at least 12 others affected by the viral disease.
"The county government had announced plans to vaccinate cows in the area. As I waited, I noticed the cows were frothing and had lost their appetite. On inspection, we realised they also had blisters on their mouths, feet and teats," he said.
Among the methods Mr Ngunjiri, a long-time livestock farmer, is using to treat the affected animals is a soda ash solution and busaa, a traditional brew believed to help restore the animals' appetite and speed up the healing of wounds.
"We use Magadi solution to wash the wounds in the mouth and feet to speed up healing. The wounds limit cows from eating. The disease makes the cows lose their appetite. Once they start to heal, the busaa comes in as an appetiser to save the cow from starving," he said.
In neighbouring Ahero village, The Standard caught up with Harun Muchiri dragging the carcass of one of his cattle that had died at night, days after a veterinary officer attended to his animals. "Last week I lost one cow and called a veterinary officer who confirmed the remaining two had already been affected by the virus," he said.
Joyce Njoki, a widow, has been left staring dejectedly at her barn after four cattle died in the span of one week.