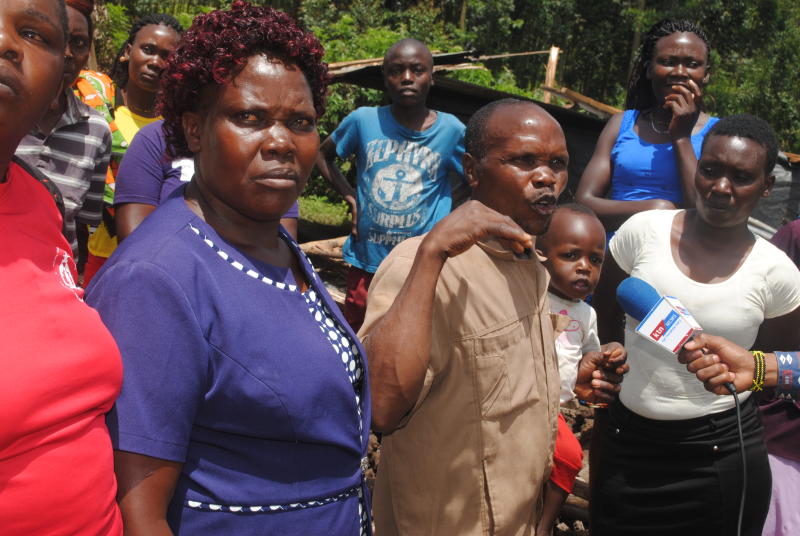 Well-wishers yesterday visited over 2,000 people evicted from disputed land in Cheptulu, Nandi County, and gave them food, medicine and tents. The evictees have been pitching tent on the land even after their houses were demolished by police on Thursday. The Kenya Red Cross Society gave the victims tents, while some leaders from Western region, led by Kakamega Senator Cleophas Malala, donated rice, maize flour, beans, maize, sugar and drugs. The families, including children, were forced to spend the night in the cold after the houses in the entire village, including a church building, were brought down.
SEE ALSO: EACC arrests five Nandi County officials over Sh19.1m tender
Victims said they lost property worth over Sh500 million during the demolitions. They said another 50 families have also been given eviction orders in Kapkangani, Kechire and Chepkumia. At least 200 families moved from Vihiga in 1968 to settle on the 28-acre parcel, which they had bought from Kipkogey arap Cheptulu (now deceased) but had never been issued with title deeds.
Sale agreements
The victims only have land sale agreements issued to them during the transaction. Eviction orders were issued on Wednesday by an Eldoret court.
SEE ALSO: Draw clear borderline for Mau, says Ogiek
Nashon Kipchumba Juma, who exhumed the remains of his father in anguish, said they bought the land in 1972 from Cheptulu but were yet to carry out the succession process by the time the seller died in 1991. He said following Cheptulu's death, Samuel Kiprotich Kosgey, who was the next of kin and in custody of the title deed, secretly carried out succession and changed the particulars to his name. According to Juma, Kosgey sold his portion of land and moved only to come back after sometime, claiming ownership of the land they had bought. "He accused us of grabbing his land and even sued us. Unfortunately, we lost the case and the court issued eviction orders," said Juma. He said police struck at 5.20am on Thursday when they were still asleep.
SEE ALSO: MP urges State to stop force removals
"We heard commotion outside and saw two bulldozers from the county government of Nandi being escorted by armed police officers, they started demolishing houses without warning," he said. "Another bulldozer came to my homestead and started demolishing my house. I took my family out of the house quickly. Some parts of the wall fell on my artificial leg, which added me more pain. I am in dire need of treatment and I don't have money since I lost everything." Juma said they were innocent as the land they are being evicted from was bought by their parents who are now deceased. He vowed never to bury the skull of his father until the government addresses his plight and that of the affected families by issuing them with title deeds, saying they are legitimate owners of the land. His younger sister, Emmy Khavesi, 51, said the court did injustice to them. "Our pleas were not taken into account by the court. In most cases, the files that had the crucial evidence were always stolen and sometimes, some pages plucked out of the files. "This was to give our oppressor an opportunity to defeat us in court," said Khavesi. She said by spending in the cold, the children and weak adults could contract diseases if urgent action is not taken to help the families. Aggrey Givai, a victim, said Sh502,000 was paid for the piece of land they were living on and a sale agreement drafted to that effect.
Succession
He said trouble began when he wanted to carry out succession of the plot, as the seller objected to the decision and ordered him to move out. "We have been living with the chiefs and assistant chiefs who are betrayers because they worked in collaboration with our oppressors to steal our land," said Givai. Yesterday, Senator Malala, Saboti MP Caleb Amisi, Nominated Senator Naomi Shiyonga, Godfrey Osotsi (nominated MP) and ODM Secretary General Edwin Sifuna visited the evictees. "We came here today not to incite or pick a quarrel but to see the people who were evicted from their land," said Malala. He said they had collected spent cartridges strewn all over the place and vowed to forward them to relevant authorities for ballistic examination so that those culpable are punished. He said they will seek audience with Lands Cabinet Secretary Farida Karoney who was in the area three months ago to try and resolve the issue in order to push for compensation and issuance of title deeds to the victims. The outspoken senator told Nandi Governor Stephen Sang to stop calling them political scavengers and idiots but show leadership by helping the victims since they voted for him in the last polls. "We don't want a repeat of the 2007/08 post-election violence. It started like what happened here. We must say no to tribalism and live in harmony," said Shiyonga. "Our courts are to blame and we want Chief Justice David Maraga to do a judicial review of the ruling that led to these evictions." Sifuna said they will make an official complaint to the Law Society of Kenya (LSK) and the Judicial Service Commission (JSC) to review the ruling and anyone found culpable be prosecuted. He said they will appeal the case and offer free legal services to the victims.